In New York, where real estate is the city's lifeblood, its tangled, baroque storylines unfolding beneath the graceful splendor of the city's skyline, developers often become larger-than-life characters, their family dramas and romantic entanglements playing out in Page Six and Curbed alongside their deals in the business pages. After all, a budding friendship can prove as meaningful as any medieval alliance, and a marriage or divorce has the potential to shift the dynamics of deals around the city.
For most of his life, Andrew Silverman has not numbered among such developers. Mr. Silverman's most recent deals—a office complex in Englewood Cliffs, N.J., that was completed in 2007 and a mid-aughts condo conversion in Long Island City—never put him on par with the kinds of tycoons who command the city's hard-to-catch limelight.
All that changed last summer, though it had nothing to do with Andalex, the company that Mr. Silverman, who is now 37, and his younger brother, Alex, inherited from their father, Allen, and now run together, or anything that Mr. Silverman had done at all. Rather, it was all about what had been done to him: Mr. Silverman was made a cuckold by Simon Cowell, the American Idol and The X Factor judge, producer and TV personality.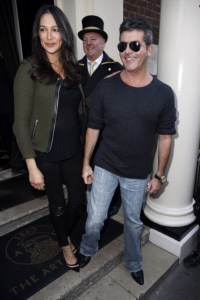 It's never easy to be the odd man out in a love triangle, but Mr. Silverman's position was of an unusually public variety, each unfolding tabloid item ratcheting up the ridicule. The affair was rumored to have started when Mr. Silverman and Lauren, his wife of a decade, were vacationing with Mr. Cowell, a family friend they met while vacationing in Barbados. (Befriending Mr. Cowell in the first place was an act of unusual flash for the decidedly under-the-radar Mr. Silverman.)
Then it became clear that Ms. Silverman was not only sleeping with Mr. Cowell, but in love with him, and not only in love with him, but having his baby. Once the news broke of the divorce, the radiant couple graced the pages of the Post and the Daily Mail on almost daily basis—holding hands on the street, vacationing together on a yacht—the tabloids breathlessly documenting Ms. Silverman's growing baby bump. In a soap operatic flourish, the baby was born on Valentine's Day.
Mr. Silverman remained, for the most part, a third-paragraph player, relegated to the supporting role in the glare of ensuing press coverage. He was described as a "real estate mogul," though none of the stories bothered to explain what he or his company did. Nor did Mr. Silverman, who appeared taken off-guard by his sudden fame, elucidate. His reticence was the polar opposite of Mr. Cowell and Ms. Silverman's approach, who even now continue to provide a nonstop stream of quotes and photo-ops to the press.
"Being in the public spotlight is not something I envy. It's never been my way," Mr. Silverman said when he sat down for an interview with the Observer last week. "Privacy has tremendous value. I've tried to be as quiet as possible even though everyone wants to hear about this hoopla."
Mr. Silverman received us in the conference room of his offices on the fifth floor of a Park Avenue building—a modest space with a set of keys on the reception desk for the locked bathrooms in the hall and tchotckes from the casino the Silvermans own in Panama piled in a corner of the conference room. He was clearly eager to redirect the spotlight that has been trained on him this past year to his business.
"I just wanted to refocus on what I do," he said. "I am a regular person, not a tabloid thing. It was a fascinating experience, unexpected and shocking."
In February, Mr. Silverman secured financing to build a 222-unit luxury rental building in Stamford, Conn., a project Andalex is partnering with local developer F.D. Rich Company to build. The Silvermans have long owned a waterfront home in Stamford, where a teenage Andrew and neighborhood teens would cruise around the coastline in their Boston Whalers.
"It's unusual at 13 or 14 that you're given the freedom to explore waterways by yourself, and it's a lot of responsibility to take care of the boat," his brother, Alex, recalled. "But he's always kind of been a leader in his own mind and ahead of the ball game."
Mr. Silverman is also hoping to close a deal on a Miami jai alai casino and sports venue owned by Florida Gaming Centers, which a branch of his company, Silvermark, had been poised to purchase for $115 million and $14 million in liabilities before Florida Gaming declared bankruptcy in August. Silvermark is the stalking horse bidder on the property, which is scheduled for an open bid at the end of this month.
He said gaming is an area that his company plans to focus on increasingly in the coming years, having been pleased with how the Panama casino has performed. (He declined to disclose revenues of either the Panama casino or the larger company.)
"We're constantly looking at new opportunities—dog tracks, horse tracks, pari-mutuels, hippodromes," he said.
They are focusing on places like Florida, rather than markets like Las Vegas, Colorado or New York, that have higher tax rates and "are a lot more competitive."
In New York City, Mr. Silverman said, "there's too much money chasing too few good deals. We've really been looking to secondary markets—North and South Carolina; our focus has basically been on markets where there is job growth in fracking or the oil industry. We're a very yield-driven family."
"Commercial is very difficult in New York," he continued. "But I like Englewood Cliffs; it's a very constrained market, and the rents keep going up."
The Silverman brothers—groomed from a young age to take over the company that their father had named for them—are primarily responsible for Andalex now, with their 84-year-old father semi-retired.
Mr. Silverman recalled being allowed to sit in on his father's business meetings as a child and working summers at the office as a teenager. "Ever since he was young, he has worked summers in the office. He knew that's what his father wanted," said Christophe DiFalco, a childhood friend who now does legal work for the company.
Mr. Silverman is now introducing his own son, Adam, who is 8, to the business in small doses, letting him listen in on business meetings at home as his father did with him, bringing together the two things he credits with keeping him sane during the Cowell debacle.
"It was a very difficult time in my life. I learned a lot, moved forward. My core business has continued to move forward. I learned a lot about myself as an individual, the importance of family. My focus has been on my son throughout the whole ordeal."
Like Andrew before him, Adam attends the Riverdale School, and the two live in an Upper East Side co-op, just as Andrew did growing up.
"I think for both of us," Mr. Silverman said, referencing for the first time the former Mrs. Silverman, "making sure our son has a normal environment is the primary focus."
Friends and family also credit work with helping Mr. Silverman through a hellish time, saying that throughout it he didn't lose his sense of humor.
"I give him a lot of credit for everything he went through and that he was able to keep his mind focused despite what was going on," said Alex.
He described his sister-in-law's scandal as "never something we would have expected"—their own parents have been married for 39 years—and he has known his own wife since they were in kindergarten together.
"I think a lot of people tried to paint a poor picture of my brother," Alex said, going on to take the media to task for its positive portrayal of Andrew's ex-wife. "You can't take someone who has very poor roots and turn them into a golden child, but that's what the media tried to do—to turn his ex-wife into a great person to benefit a celebrity."
He said that the focus should be on Mr. Silverman, "a really great person who has moved on with his life."
Friends and family were eager, indeed, to talk about what a caring and generous person Mr. Silverman was, calling all participants after a deal to thank them, inviting business partners and friends to a gun club he belongs to downtown. Mr. DiFalco said that when he got divorced several years ago, Mr. Silverman went out of his way to invite him to the Hamptons and ski vacations.
"He made sure that I felt like I always had someplace to go, so that I never felt alone," Mr. DiFalco said.
Mr. Smith also praised Mr. Silverman's hospitality, which his friends say numbers among his best qualities.
"He's very good at setting the stage for a relatively nice time, letting people partake of one another," said Mr. Smith. "He lets other people talk. It's not that he's a shrinking violet, but I don't get the sense that he needs to monopolize to show his worth."
In other words, he's no celebrity.