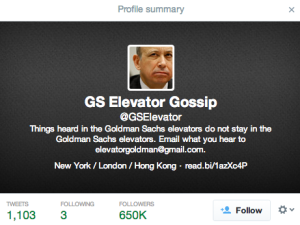 Simon & Schuster imprint Touchstone has cancelled a book deal with an elevator's Twitter account because it was fake, Business Insider reports.
Well, obviously the publishing house knew that the Goldman Sachs elevator parody Twitter account was written by a person, not a machine. But when it turned out that that person didn't even ride the elevator he pretended to be on Twitter, the rationale behind the book started to make less sense. 
"In light of information that has recently come to our attention since acquiring John Lefevre's STRAIGHT TO HELL, Touchstone has decided to cancel its publication of this work," Simon & Schuster said in a statement. 
Last month, The New York Times discovered that the man behind the popular Twitter account @GSElevator, which purported to tweet things overheard in the elevators at the investment bank, was actually a guy who lives in Texas and used to work at Citigroup. 
After the Times story, Julie Bosman speculated about the prospects for the book but cited Touchstone spokesperson saying that the imprint "planned to proceed with publication."
Guess the publisher changed its mind. Signing a book deal with an anonymous Twitter account is always a gamble….