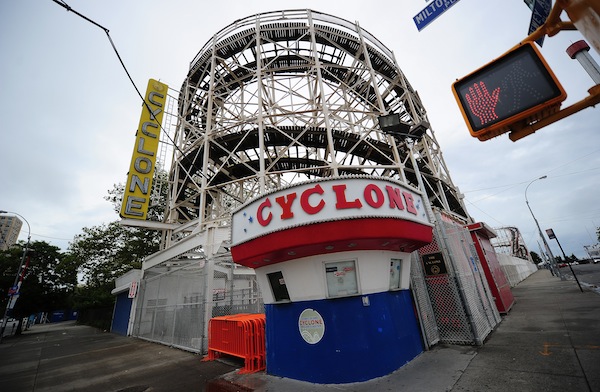 Something wetter than the mermaid parade might be coming to Coney Island.
Zamperla, the Italian company that operates the tilt-a-whirls and roller coasters of Luna Park, are looking to build a water park on five parcels of land from Surf Avenue to the Boardwalk, according to the Brooklyn Daily.
This stretch of land was once home to the Thunderbolt, a wooden roller coaster in the 1920s to the 1980s, reincarnated as a spanking new steel loop-dee-loop slated to open on May 22, also operated by Zamperla.
"It's in the very primary stages, we don't want to mention anything yet," Valerio Ferrari, president of Zamperla's Central Amusements International, told the paper.
CEO Alberto Zamperla said that he is negotiating with Jasmine Bullard, daughter of late Surf Avenue property owner Horace Bullard.

The caveat is whether the state won't pour cold water on the project, as it has done in the past. In 2011, plans to install inflatable water slides fell through when its proponent, Party Magic USA, couldn't get permits from the State Department of Environmental Conservation.
Ian Fried of the New York City Economic Development Corporation, which broke ground on the new Thunderbolt as part of its $150 million revitalization plan for Coney Island, told the Observer that they are not involved in the creation of the water park. He even said that "the new Thunderbolt, not a water park, is being built on the site of the old Thunderbolt."