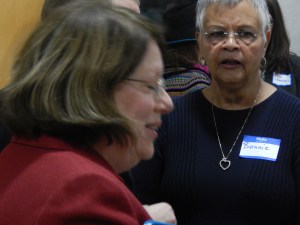 Emotions – a lot of them – spilled out of the pre-convention meeting room in Mercer this past Saturday as two bitterly feuding camps prepare to battle tonight for the county line in the much-watched CD12 Democratic Primary.
Trying to get a leg into Mercer in a Middlesex versus Mercer/Union contest, the Middlesex-based state Sen. Linda Greenstein questioned rules governing the Mercer Democratic Chair's 25 committee votes of a possible total 150.
Having lost the Union county line to chief rival Assemblywoman Bonnie Watson Coleman (D-15), Greenstein – legal bifocals firmly in place – fought for every break in the backroom action, sources say.
In the end, the senator came up short on turf quickly transformed by the announced retirement of U.S. Rep. Rush Holt (D-12) from friendly neighborhood footprint to civil war enemy outpost.
At the heart of her questioning, Greenstein worried about whether Chair Liz Muoio properly filled the seats according to the county party's bylaw pre-requisites for minorities and women.
Greenstein feared that Muoio stacked those seats with handpicked delegates, with no regard for the very specific affirmative action language demands in the party's bylaws.
Mercer reps in the room objected, pointing out that more delegates came out of Ewing not because it's Watson Coleman's hometown but because of the dearth of filled Trenton seats.
Greenstein got into a back and forth with veteran county party leader Rich McClellan, needling him about process as the chair resisted.
A day before Greenstein would lock down her home county of Middlesex with 81% of the county committee vote, she labored up to the end of the meeting to maintain pieces of Mercer to prevent Watson Coleman from reaching the required 60% to receive Mercer's column and slogan.
Faced with the Watson Coleman campaign's repeated favorite floated percentage of 56% – the edge Mercer has in raw primary votes in CD12 – part of the Greenstein Campaign's effort includes ripping suburban towns in Mercer away from the assemblywoman.
When it became apparent to her that she could not corral Mercer, and alert to what she was convinced were irregularities in the process, Greenstein, according to sources, told the Mercer reps that she hated them – except for Hamilton, and vowed that she would not forget.