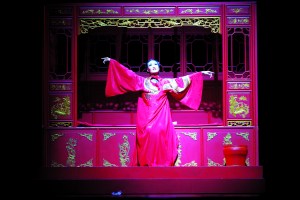 Let's reverse the usual trajectory "from the sublime to the ridiculous" and try going from the ridiculous to the sublime—or as close as we can get. Feeling guilty because I've never reported on the various full-evening Chinese dance spectacles that turn up at Lincoln Center every once in a while, I took a deep breath and exposed myself (and a long-suffering friend) to an award-winning extravaganza recently staged by China Ningbo Performance & Arts Group at the Koch Theater. It was called The Red Dress and was about a wealthy young man and woman in "an ancient town" in Southern China who are in love but somehow can't seem to find a way to marry.
In the first act, we encounter Yue'er and A'yong, who pledge their love amid general hope and merriment. We rejoice in their happy expectations during the busy silkworm-hatching season, and, according to the program notes, "The fingers-crossing leaves a promise of mystery, while the red bellyband serves as a token of their love."
The fingers-crossing isn't the only mystery we're left with. In the second act, Yue'er and A'yong "plant two pomelo trees for the engagement, symbolizing their marriage vow of lifelong loyalty," but shortly thereafter, A'yong heads out of town carrying a neat little suitcase and swearing to return "when I have achieved success through work. Then I will marry you with the phoenix- and dragon-decorated Sedan, as well as a thousand red dresses."
At this point, I myself headed out of town, or at least out of the Koch. If you're worried about how it all turns out, the program tells us, "Seasons go away one by one, and the heavy snow falls down year by year." At the close, "The maiden's dream of Yue'er becomes the eternity in her memory at the very moment when her red dress veil is raised."
Bewildering as the action is, the dance style is even more bewildering. It's a kind of throwback to the kitschy musicals of yesteryear—perky Chinoiserie with mincing steps, exaggerated lyrical lifts, folky explosions from cheerful peasants, accompanied by squeaky exclamations and simpering smiles and moues. Lots of parasols, lots of pretty pink bushes, execrable music, and choreography by Yin Mei, who to my astonishment turns out to have been a professor of dance at Queens College (CUNY) since 1995 and has won a Fulbright and a Guggenheim. What dance has she been looking at in her many years in New York? The Red Dress has apparently triumphed in Shanghai, Hong Kong, Taiwan and elsewhere and has won the 11th National Spiritual Civilization Five Top Project Prize and the Excellent Repertoire Award of the 7th China Dance Lotus Award. The predominantly Chinese audience at the Koch seemed to be having a good time.
Earlier in the week, two ex-Balanchine dancers presented their relatively new companies in mixed bills. Tom Gold capered at City Ballet for 21 years—he was the bouncy short soloist who jumps and twirls ("Candy Cane" in Nutcracker, for instance); the current avatar is Daniel Ulbricht. To perform his choreography, Gold calls upon his ex-colleagues, including the ravishing Sterling Hyltin, as well as a few outsiders like the stalwart Stephen Hanna, an ex-City Ballet principal, and Luciana Paris, of ABT, whose energy and polish stood out in a beach romp called La Plage. There were three dances, all smooth, all pleasing and all inconsequential. Urban Angels was propulsive (and the women made wing-flapping gestures); The Ladies Room (to Debussy) gave us three soignée ladies revealing their inner states of mind while primping; and La Plage had some amusing swimming tropes and cute costumes. It was all over in less than an hour (blessedly without intermissions), and it was as if it had never been.
The Gelsey Kirkland Ballet was a far cry from the modesty of Tom Gold's offering. Kirkland fled Balanchine early, for the lure of Baryshnikov and the classics at ABT, and her talent made her a great star, her exquisite technique and dramatic imagination carrying her through severe emotional crises—until they couldn't any longer, and she desperately floundered. She has made a determined and largely successful comeback as a teacher and coach, a comeback almost derailed by the debacle of ABT's most recent production of The Sleeping Beauty, which she staged with her husband and partner, Michael Chernov, and Kevin McKenzie. (It's about to be replaced.)
Her company springs from her Gelsey Kirkland Academy of Classical Ballet, and the word "academy" suggests the nature of her ambition and the rigor of her approach: Kirkland today is first and foremost a pedagogue, and her dancers have clearly been trained and trained and trained. Few of them are major talents (true as well of most dance companies, of course), but they know what they're doing: They have energy, they're turned out, the boys have strong, clean beats, the girls are accurate and responsive to music. And Kirkland put them through their paces with a long, varied and demanding program, stretching from a standard Raymonda suite, a Bournonville Ballebille, a bang-bang kitschy pas de deux (The Flames of Paris), the sweetly pretty and very outdated Pas de Quatre (about four of the great and rivalrous ballerinas of the Romantic period) to the pas de deux from the ballet Antony Tudor made on Kirkland, The Leaves are Fading. This duet, like the entire ballet, is overextended, but it was performed movingly by the lyrical Dawn Gierling and her manly partner, Cristian Laverde Koenig. And finally, a complete one-act Petipa comic ballet, never before seen in America, called Cavalry Halt: a young couple, a saucy flirt in red, a cavalry troop led by an elderly general, an intense "Rotmeister" and a horny young coronet, all hoping to score with the flirtatious one. It's all stuff we've seen again and again, but it's harmless and gives the company experience in character dancing.
In fact, for all its virtues, what the Gelsey Kirkland Ballet program most resembled was a school graduation performance, showing off what the students at the academy have been working on and giving appropriate opportunities to its more talented students. As of yet, though, it's not quite a professional ballet troupe.
Now for what should have been sublime: the final performances of the City Ballet season. For once, the repertory was almost spotless, because it was primarily Balanchine and the best of Robbins. And there was a sense of occasion—the farewell performances of two admired principals, Janie Taylor and Sébastien Marcovici. Taylor's departure provoked a special kind of sadness: Here was a dancer of immense possibilities—frail-looking but powerfully dramatic, an Allegra Kent in the making—who was undone by serious injury and illness. She struggled back, but her technique was eroded, and her repertory thereby limited. Still, she always made a strong impression, her waywardness adding to her lovely qualities. Marcovici also never really fulfilled his promise, but his promise was less than hers, so we can honor his accomplishments without mourning what might have been. They appeared together in Afternoon of a Faun and La Valse, underpowered but valiant. And they were seen off with the ardent good will of the City Ballet audience.
But Taylor and Marcovici were not the problem with La Valse, one of Balanchine's most beautiful and mysterious creations. The problem is the company's failure to grasp what it's about, what its highly specific perfume has been through most of its 63-year history. This was Tanaquil LeClercq's most famous role, but there have been other glorious interpreters—Sara Leland, Suzanne Farrell, Patricia McBride, Darci Kistler and more. But the triumph of La Valse is a group triumph. From the moment the curtain goes up and the three tall, elegant "fates" are seen standing close together in Karinska's most striking costumes, their hands partially covering their eyes, we're in a rarefied world—the world of French glamour, of the New Look and its great models and fashion photographers. They're not just standing—they're posing. They've seen everything, they know everything—they epitomize the world of the ballet, and if the dancers are callow or blank, the ballet is dead on arrival.
And so it proved. Whoever is responsible for this section of La Valse is either mood-deaf or ignorant. The wrists are all wrong, the ominous gestures are empty, the great costumes and hairpieces have been disastrously "freshened." Balanchine never stopped coaching these roles, and there are many of his alumnae within shouting distance of the Koch who could demonstrate what's needed. But they're not welcome. Nor are the elders who could explain Balanchine's intent to the three agitated couples who follow. Today, they dance capably, but it's generic dancing—the turbulence, the foreshadowing of tragedy are gone. The most serious problem of Peter Martins' City Ballet has been and remains the failure of the coaching. Even so, the genius of Balanchine's patterning and his fluency with La Valse's large corps shines through.
The Four Temperaments was equally lax, with only Ashley Bouder as "Choleric" displaying any temperament at all, the three couples of the Themes (with the exception of Ashley Laracey) particularly bloodless. So was Concerto Barocco with the bizarre mismatch of the mantis-like Teresa Reichlen and the zaftig Sara Mearns as the First and Second Violins, Reichlen doing too little and Mearns doing too much. (Mearns, however, was at her best in the amusing if unexceptional Walpurgisnacht Ballet, playing with the music and letting herself rip—if there's no rip in Walpurgisnacht, there's no ballet.)
The best performance of a major Balanchine work was of Stravinsky Violin Concerto. Maria Kowroski is too balletic, not contortionist enough for the first duet, but she and Amar Ramasar gave it an appropriate glamour. Hyltin, in the Kay Mazzo role of the second duet, is charming and polished; her partner, Robert Fairchild, was equally appealing, though utterly unlike the great original, Martins himself. Martins stalked, Fairchild frisks, but no one's complaining. And what a great ballet! The company tears into it, and 42 years after its premiere, it's as fresh as ever.
Finally, we had the young Liam Scarlett's new Acheron, to Poulenc's Concerto in G Minor for Organ, Strings and Timpani. It's a large, dark work, with an all-star cast, but I don't see it as an advance over the two auspicious works he created recently for Miami City Ballet—it's longer but not different in kind. Scarlett, from England's Royal Ballet, knows how to move dancers on and off stage, and he has a strong sense of structure, but it's all lifts, lifts, lifts in the murky lighting. Scarlett is beginning to look pretentious—the opposite of City Ballet's own young star choreographer, Justin Peck, who, in the manner of Balanchine, takes everything seriously except himself.