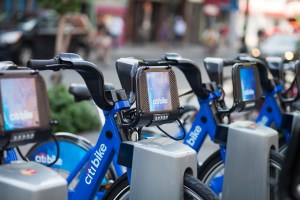 These are no wheels of fortune.
Despite having 98,000 New Yorkers subscribed for the $95 annual fee, Citi Bike remains unprofitable, CBS 2 reported. This comes mere months after the bike share program's manufacturer, Montreal-based Bixi, filed for bankruptcy.
Department of Transportation commissioner Polly Trottenberg told a city council last Tuesday a fee increase for the bike share program is not outside the realm of possibility.
"I would put it this way — all options are on the table," Ms. Trottenberg told the Daily News. "I think everyone agrees it turned out to be a real bargain for New Yorkers, who used the system twice as much as users of other cities."
Citi Bike is already the largest and most expensive bike share program in North America. The city currently holds 6,000 of the blue-bicycles at 330 stations across Brooklyn and Manhattan. Besides the annual program, $10 daily and $25 weekly fees are available.
"We are working diligently with them to try and resolve the challenges they face and seeing what we can do to strengthen the program going forward," Ms. Trottenberg told the council.
Some within the city council voiced the opinion that Citi Bike should receive government subsidies, but Ms. Trottenberg remarked the DOT is not about that nonsense.
Could the solution be this Kickstarter campaign hoping to add motors to Citi Bike? (Spoiler: the solution is not the Kickstarter campaign hoping to add motors to Citi Bike).