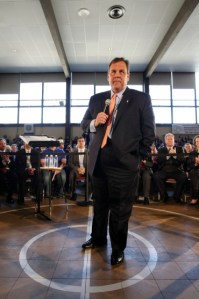 New Jersey's acting attorney general and the head of the State Police issued an order Wednesday barring police officers from photographing at Gov. Chris Christie town halls for "security or any other purposes."
Acting Attorney General John Hoffman issued the order along with the head of the State Police a day after a plainclothes individual who later identified himself as a State Police officer was spotted snapping shots of protesters a Christie town hall.
Hoffman and State Police commander Col. Rick Fuentes didn't confirm whether the person photographing protesters was a member of the State Police. However, the acting attorney general advised police will no longer photograph town hall attendees.
"The State Police is responsible for the safety and security of the governor and the public at town hall meetings. In doing so, the State Police are careful to guarantee that First Amendment rights are respected and the public – whether expressing positive or negative sentiments toward the governor and his policies – have ample opportunity to make their positions known," Hoffman said in a statement.
"That said, the Colonel and I have instructed the State Police to no longer photograph at these events for security or any other purposes," he said.
PolitickerNJ first reported the photographing incident, which spurred the state Senate's majority leader to label the practice a "Nixonian tactic" and prompted the American Civil Liberties Union of New Jersey to issue a statement telling the State Police to "come clean."
"It raises serious First Amendment concerns that the State Police may be photographing protesters at Gov. Christie's town hall meetings," Udi Ofer, the executive director of the ACLU of New Jersey, said earlier today.
"The State Police must come clean and explain to New Jerseyans whether it has a practice or policy of photographing people engaged in First Amendment protected speech," he said. "New Jerseyans must be able to express their viewpoints without having to fear police officers photographing them and creating political dossiers on them."