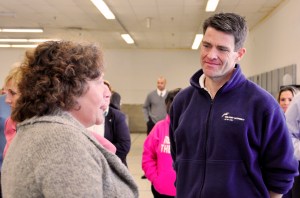 Gov. Chris Christie's two-time campaign manager personally thanked former Port Authority executive Bill Baroni for speaking to lawmakers in November, according to new court documents.
Bill Stepien, who Christie distanced himself from following the fallout of the George Washington Bridge scandal, sent the message to Baroni after the former executive worked to convince lawmakers in November that the GWB lane closures were part of a traffic study. Stepien also made reference to the recently deceased former U.S. Sen. Frank Lautenberg.
"Hey, great job yesterday," Stepien wrote to Baroni in a text message a day after Baroni's Nov. 25 Statehouse appearance, according to court documents.
"I know it's not a fun topic, and not nearly as fun as beating up on Frank Lautenberg, but you did great, and I wanted to thank you," he wrote.
"Thanks William," Baroni replied. "Loretta and [Wisniewski] will keep their nonsense but at least we have explained the counter narrative."
Stepien's comment to Baroni about "beating up on" Lautenberg was an apparent reference to a heated spat between Lautenberg and Baroni in April 2012.
The documents were released by counsel for the joint legislative committee investigating the lane closures after Stepien's attorney demanded the release of any additionally correspondence that could supposedly implicate client's involvement in the lane closures.
"[Wall Street Journal] writing a follow-up on the Fort Lee issue," Stepien wrote to Baroni on October 1. "You probably know, but wanted to make sure."
"Yeah. We're not responding," wrote Baroni. "Per Drewniak."
Contacted via email for comment, Stepien's attorney, Kevin Marino, responded to PolitickerNJ.
"The documents released today — as distinct from the the familiar rhetoric that attended their release — thoroughly discredit the Committee's desperate attempt to paint Mr. Stepien as a central figure in the lane closure controversy," Marino said. "Stated simply, those documents do not contain a shard of support for the Committee's position, which we are confident will be roundly rejected.