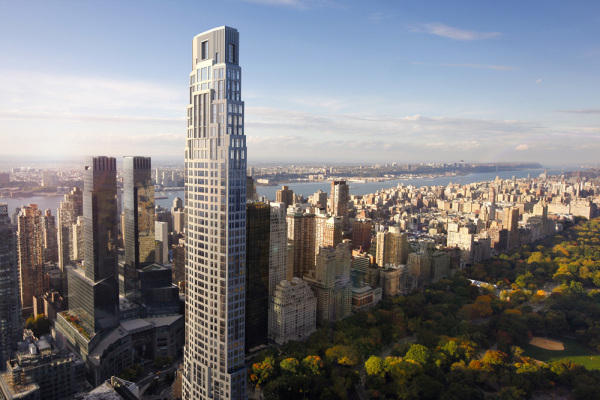 Mon dieu! Within months of one another, two of New York's biggest developers have unveiled plans for limestone luxury towers, designed by the same architect, to be built just a matter of blocks apart. In January, renderings for Vornado's 64-story Robert A.M. Stern-designed luxury behemoth at 220 Central Park South were revealed and yesterday the Zeckendorfs released renderings of their 51-story Robert A.M. Stern-designed luxury behemoth at 520 Park Avenue. Which seems, if you ask us, rather embarrassing in a city where residential developers so often go to great lengths to create distinctive "experiences" and make overwrought claims to offering "unparalleled luxury."
So who wore it better?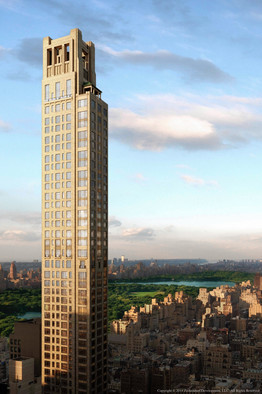 It's true that only time, more renderings and closing prices will tell for sure, but a little speculation certainly seems in order given that the towers will be competing for the same buyers—very deep-pocketed ones looking for extremely upscale, new old-fashioned condos along the 57th Street billionaire's corridor. The buyers who want a Candela or a Roth or a Carpenter but can't or won't get past a co-op board. The kind of buyers who flocked to 15 Central Park West, Robert A.M. Stern's other Central Park-adjacent limestone luxury tower and are now even more eager to buy a unit in a Stern-designed building because of 15 CPW's spectacularly high resale values, as well as the assurance that no fussbudgets with dog-eared copies of the Social Register will turn down the LLC that inevitably ponys up their obscene asking price when they decide to cash out.
Over the last few months, we've had ample opportunity to take in the floor-to-ceiling windows, double-height coffered ceilings and herringbone floors of 220 Central Park South, though interior renderings of 520 Park, to be built on the corner of East 60th, have not yet been released. But we  certainly expect that 520 Park will not be without its own floor-to-ceiling windows, double-height coffered ceilings and herringbone floors.
The real question: will 520 Park also boast a car courtyard and reflecting pool, like 220 CPS and 15 CPW? (Note to Zeckendorfs—an enormous circular rooftop pool with waterslide, a la Monaco's Odeon Tower, would be a total trump card.)
Besides slightly different park views, the buildings will have several substantive differences. While both will be ridiculously opulent with sprawling penthouses priced at the upper reaches of the trophy market, 220 CPS looks to be somewhat "mixed income"—ranging from lower-level millionaires to full-fledged billionaires who will live side-by-side, or rather, own side-by-side units that they visit a few times a year, probably not at the same times, in the 160-unit building. While 520 Park will be strictly for the most upper crust millionaires and billionaires, with prices starting at $27 million, according to The Wall Street Journal. The building will have only 31 units—all floor-throughs and all, of course, with their own elevator landings.
Whether or not a hint of income diversity makes for a better building remains, like the all-important finishes (it's important to know just how exquisite they are before ripping them out and installing even more exquisite custom finishes), to be seen. Is it best to keep the lesser millionaires at bay? Or delicious to live in close proximity to those who envy your superior spread?
A question for the ages. Unlike Stern, the not-so-mysterious architect beloved by millionaires with perfectly good taste. No, he will probably never win the Pritzker, his work is often described as "accessible" and one colleague, on hearing that the architect was designing yet another limestone tower, dismissed him as "the Rosario Candela of unexceptional gilt." But his designs are wickedly popular—the nouveau riche's response to the self-important buildings lining the Park to the east and west—those stodgy Fifth Avenue co-ops and those whimsical Central Park West towers. Newer, of course, and perhaps not quite as elegant. An ungenerous observer might even call them ever-so-slightly cookie cutter, though they sell, notably, for roughly twice the price.