Since former University of Missouri Tiger's player Michael Sam came out on February 9, the social media discussion has been endless.
Mr. Sam's high ranking as a defensive lineman makes him likely for the 2014 draft, in which he would become the first openly gay NFL player. 
Emory University's Sports Marketing Analytics conducted a study from the morning of February 9 to February 11, analyzing the Twitter responses from the 31 NFL markets to decide which teams would be most accepting of Mr. Sam. 
New York City passed the test, ranking number one and beating Missouri's own St. Louis Rams.
I want to thank everybody for their support and encouragement,especially @espn, @nytimes and @nfl. I am proud to tell my story to the world!

— Michael Sam (@MikeSamFootball) February 10, 2014
"The tweets were sorted by market, and analyzed for positive, negative, or neutral sentiment. Looking at the ratio of positive, negative and neutral tweets allowed us to compare Twitter sentiment for Michael Sam across NFL Markets," Michael Lewis and Manish Tripathi, the authors of the study, explained.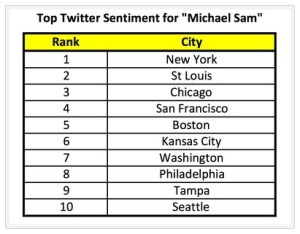 Not surprisingly, Nashville ranked the lowest, followed by Oakland, Green Bay, Pittsburgh, San Diego, Jacksonville and Cleveland.
While the study definitely has some flaws, such as teams' fans being spread throughout the country, the rankings present an interesting perspective on football and homosexuality. 
We are proud that New Yorkers are welcoming Mr. Sam with open arms. The question now is, who's going to get him come May?
Logic dictates Mr. Sam should pack his bags and come to the Big Apple.