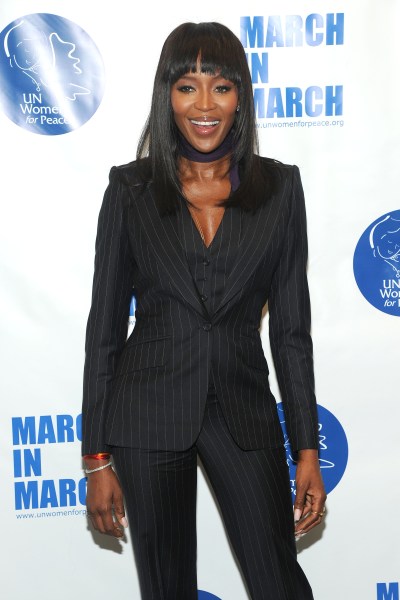 "The role of first wives should be more official, if they want to play an active role," the former first lady of France, Cécila Attias, asserted at an Alliance Française luncheon celebrating her new autobiography, A Desire for Truth. "Women can change the world!" the ex-wife of former president Nicolas Sarkozy went on to declare as attendees nibbled on pear-endive salads and chilled glasses of Château Chaubinet blanc.
Next, we lunched, swilled and marched with U.N. Women for Peace at an event honoring Trudie Styler and Dina Habib Powell and attended by Cindy McCain, Kim Cattrall and Naomi Campbell, among others.
"Women's rights are human rights," Ban Soon-taek reminded patrons, warning that "violations are unacceptable."
"I'm really distraught by some of the backwards steps in terms of women's reproductive rights," actress Blythe Danner fumed, after flying in from filming in Los Angeles to receive a performing arts award from Guild Hall. "It's insane. It just makes me see red!"
"It's time we all stand up and really fight against inequality," Sally Field proclaimed that same night while posing with another Oscar winner, Olympia Dukakis, at Lark's 20th Anniversary Benefit honoring playwright Edward Albee. "It has to be over now—and you too, sir, can help do that!" she all but demanded, punching Shindigger's left shoulder. Ouch. Rosie the Riveter lives.
For some on the charity circuit, the Valentino/Lanvin debate is more puzzling than figuring out how to pony up for a $25,000 table. Jean Shafiroff is one of those ladies whose name you see whenever there's an opportunity to give back (along with the DiMennas, the Ziffs, the Kochs, the LeFraks, etc.) And whatever cause she champions, she always seems to go an extra step.
"They don't just give you these for being a good person," Ms. Shafiroff bantered a week before the New York City Mission Society honored her with the Dina Merrill Hartley Public Service Award at its gala. "It's work!"
Accepting the award, Ms. Shafiroff wore a custom Monet-green gown by B. Michael. For the event, Ms. Shafiroff had gifted the Mission Society's youth ambassadors with formal attire, which they were allowed to keep for their proms. She explained her reasons for supporting underserved youth.
"It is a great privilege to be in a position to help," she said. "Therefore, we must."