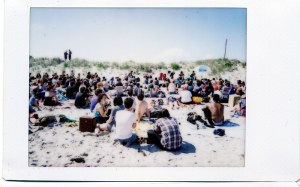 Will Rockaway rompers frolic on Fort Tilden Beach this summer? 
The answer is likely yes. An environmental firm jumpstarted formal cleanup efforts on Wednesday, just 16 months after Hurricane Sandy whomped the peninsula.
Beachcombers will likely have their fenced-off hangout back before summer, minus the shards of metal and concrete.
The company tasked with remediation, New Jersey-based PARS Environmental, is in the stages of removing large chunks of debris broken off from nearby Shore Road.
Located in a former military base, Fort Tilden Beach became popular for its army barracks-turned-multipurpose facilities for artists, theater groups and summer campers. Hipsters-in-residence even converted an old warehouse into a library, according to Gothamist, and its sands, a spot for barbecues.
Just their luck, the National Parks Service's Daphne Yun said that the shores should be open to the public by board shorts season. "Last year our priority was to open life-guarded beaches," she told DNAInfo. Fort Tilden, a so-called "natural" beach, remains unmonitored.