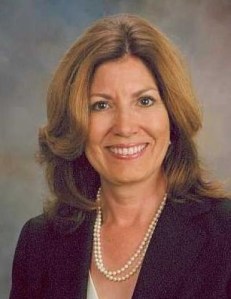 When Bridgeton Councilman Jack Surrency last night announced his intention to pursue re-election to the council instead of running for Cumberland County Clerk, the announcement sparked anew suspicions of a clerk candidacy by Assemblywoman Celeste Riley (D-3).
Surrency was lining up a clerk's run. But a poll circulated earlier this month in Cumberland pitting Riley against incumbent Republican Clerk Gloria Noto suggesting Democrats' designs on shifting Riley out of the assembly into the clerk's office.
Sources say it's happening.
Riley can walk to work if she beats Noto. Plus, she doesn't have to relinquish her assembly seat if she loses.
The county Republican chairman read Surrency's announcement as a done deal.
"Considering dual-office holding is no longer permitted in New Jersey, based on this announcement, we can assume the Democrats' leadership was successful in forcing Jack Surrency out of the race for County Clerk," said Cumberland County GOP Chairman Bob Greco. "Now that we know Surrency is not running for County Clerk there are more unanswered questions.
"Have they finally realized Gloria Noto does a great job as County Clerk and that they can't beat her? Or are they waiting until after our convention tomorrow evening?"