The 28-year-old artist Jacolby Satterwhite has reached a milestone in his career, with his work included in the current Whitney Biennial. For his mother, it has been a different story. "She has over 10,000 drawings; they're stacked up to the ceiling," Mr. Satterwhite said in a phone interview last week. Patricia Satterwhite, who is 63 and lives in Columbia, S.C., has for years been making sketches of products, often fanciful and slightly frightening, that she proposes selling on cable shopping channels. Diagnosed with a mental illness, she has not left her home in years, and her work has never been shown.
The mainstream art world has never known quite what to make of (or even what to call) art created by nontraditional artists—people who are self-taught, mentally ill, disabled or incarcerated. There are museums and fairs dedicated to outsider art, art brut, visionary art, folk art and more, and interest in those overlapping, ill-defined fields has ebbed and flowed over the years. But now, it is reaching new heights. Recent editions of the prestigious Venice Biennale and Documenta included the work of so-called outsiders, and curators, museums and galleries are devoting space to it. This Thursday, Ms. Satterwhite will finally have her debut, at the Studio Museum in Harlem, showing alongside her son in a show called "When the Stars Begin to Fall: Imagination and the American South."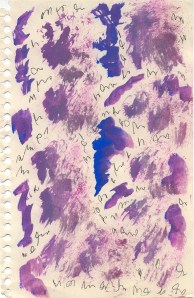 Organized by the museum's assistant curator, Thomas J. Lax, the show has work by 35 artists, with well-known contemporary figures like Kara Walker and David Hammons appearing alongside far less familiar names. There's Frank Albert Jones (1900–69), who made intricate architectural drawings, filled with mischievous ghosts, while in a Texas prison. And there's J.B. Murray (1908–88), who at 70 began making expressive abstract works that he said channeled the word of God, inspired by visions prompted by an eagle flying over his Georgia home.
"With many exhibitions that look at the relationship between self-taught and trained artists it's this kind of ground-figure thing," Mr. Lax said in the Studio Museum's lobby. "The ground from which the academically trained artist can emerge is the self-taught artist." That, he said, is a false premise. "I was really trying to challenge myself to think … What are a shared set of conceits?" His conceits include how artists have approached the historical, fantastical and religious legacies of the American South, and the idea of the self-taught artist within it.
It's the kind of context for his mother's work that Mr. Satterwhite has been looking for. He has long incorporated her drawings into his own practice, using them to inspire performances or tracing them on a computer and inserting them into the psychedelic worlds of his videos. "People kept pushing me toward visionary art museums, outsider-art things, and I just didn't like that," he said. "I wanted them to operate in an arena that's kind of, you know, insider or whatever you want to call it. I didn't want them to have some kind of strange, freakish …"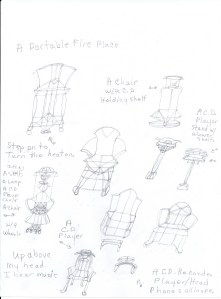 "I've always looked to the intuitive sensibilities that accompany those types of makers," the artist Lauren Kelley said, referring to "untrained artists, naive artists or however you want to put it." She grew up in Houston and was introduced to the work of Jones and others in the art collection of a family friend. For Mr. Lax's show, she has made videos of cast-off objects—a doll's head, a phone—that she buys on eBay and animates on a computer. They harken back to Jones' characters and also bring up the question of "where our products are coming from," she said. They question what we really know about where our art comes from and the people who make it: not very much in the case of many self-taught artists.
"A lot of these artists are known, but it's only now that there is more in-depth stuff being done on them," said Randall Morris, of the Cavin-Morris gallery, which specializes in such work. Why has it taken so long for them to be fully embraced by the art world? "African-American art has always come last," he said. Work by self-taught African-American artists doubly so. "The work got dispersed out and collected a lot, but the research didn't catch up with it. … People are finally doing the research that should have been done in the first place." But Mr. Morris is also skeptical about the new interest. "I think it's silly," he said. "First of all, we don't use the word 'outsider.' We think it's a racist—it's the wrong word to use for disenfranchised people. It's not a movement. It's been here for hundreds of years. Whatever the art world does with it isn't going to change it." Cavin-Morris uses the terms "mainstream" and "nonmainstream" for the work they show. "To me, that's as least insulting and as simple as you can get it," he said.
Much of the art in "When the Stars Begin to Fall" embodies the tensions between inside and outside, trained and untrained. The choreographer, theater director and artist Ralph Lemon is showing new photographs from a long-running project with residents of rural Little Yazoo, Miss.—"a kind of both allegorical and aleatoric play with the South" is how he describes it. His subjects sit in their homes, wearing animal masks or costumes, responding to his directions. He doesn't think of it as art or performance, and he thinks they don't either. He pays them for a day of work, terming it "a kind of playful labor."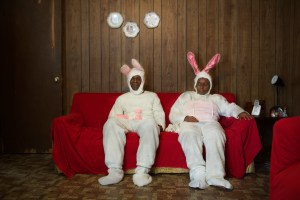 "I think it's a conversation about who they are and where they're from and who they think I am and where I'm from," he said. He sees the whole project as "problematic, maybe a little exploitive," but notes that he's "very, very mindful in how I talk about this work."
Mr. Lax's aims to contextualize work responsibly, to allow all art to be interpreted on an level plane, with a measure of openness. "I believe strongly in contemporary art's capacity to exist wildly and without necessarily tying it to specific terms," he said. "But not all of us come into this on the same plane, so I think that's where an institution like ours is important—to give some frame to what the stakes are of all of this."
Or as Mr. Lemon said of his project: "I think what I've tried to do is dress and honor the odd, because it is a different world. As much as I love them, there is a feeling of discomfort, like I don't belong there."