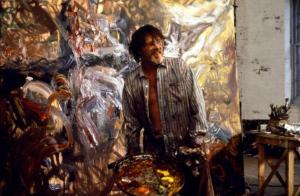 Though it was snubbed by the Academy last night, failing to cash in on any of its five Oscar nominations, The Wolf of Wall Street has been the season's most-discussed blockbuster. Ever since the Martin Scorsese saga made its splashy debut on Christmas Day, viewers and critics have been maligning its excesses, usually arguing that it glorifies some seriously bad behavior, while others have rushed to defend it as a masterpiece. The film, which narrowly avoided an NC-17 rating by means of an 11th-hour edit that brought the appearances of bare breasts and acts involving them down to sub-stratospheric numbers, follows the career of Jordan Belfort, a debauched penny stock swindler with epic appetites for women and drugs. A couple decades back, Mr. Scorsese trained his camera on another world characterized by wealth, materialism, lavish parties, frequent bouts of nudity and more than a couple criminals: New York's art world.
Mr. Scorsese's "Life Lessons" is the first of three vignettes forming the 1989 film New York Stories. Nick Nolte stars as Lionel Dobie, a fictional famous painter racked with sexual frustration and deadline pressure in the weeks leading up to a one-man gallery show. What's striking about the short film is how much of it rings true today. There's the cocky performance artist (played by a young Steve Buscemi) who has somehow suckered audiences into applauding his vacuous displays; the mutually exploitative relationship between a famous artist and his ambitious young assistant; a suited, silver-haired art dealer; and the artist-as-entertainment phenomenon (at one point, Lionel trades in his paint-streaked work clothes for tails to attend a glitzy party. There, he amuses rich collectors with raffish stories, enabling them to feel a bit more alive for having talked to a real out-there creative type). The more things change.
Of course, some aspects of the film date it. The waves of real-estate envy provoked by Lionel's loft studio, the type of space now only accessible to Wall Street wolves, are almost nauseating. The space stretches on and on, illuminated by a seemingly endless row of windows, with enough square feet for Lionel to make his massive, messy Neo-Expressionist paintings—and probably play a decent game of tennis. The whole vignette was shot on location, and the rest of the city looks properly bombed out. Anyone nostalgic for the Bad Old Days will soak up the shots of Soho as it was before becoming a shopping district, and the scenes set in now-defunct 1980s landmarks like Tunnel, the notorious nightclub located in a freight railroad terminal on 12th Avenue. (Time has spared a few spots, though: a Nolte-Buscemi fistfight set in The Odeon in Tribeca looks as though it could have been filmed there yesterday.) 
Perhaps the least contemporary component of the film is Lionel's character: the stormy, hard-drinking, hyper-masculine painter cycling through girlfriends has become an archetype so iconic that it now feels cliché. (Lionel was based on a real artist working in the 1980s named Chuck Connelly, a celebrated, self-destructive painter whose artwork and loft Mr. Scorsese borrowed for the film.) There may be a Neo-Expressionist comeback in progress, but its agents are polished and affable. Nevertheless, younger women on the arms of famous painters have not fallen completely out of vogue. 
Films about the New York art world made by non-New York artists are pretty rare, and this one, with its evocation of the art world's past and present (and its predictably perfect Scorsese soundtrack: Cole Porter, Cream, Dylan and more) is a lot of fun. Of course, Mr. Connelly didn't love the film—he reportedly told Page Six that it's "no Raging Bull." It may not be, but that's not the point. When enjoyed as a palate cleanser following the three-hour orgy of orgies that is The Wolf of Wall Street, "Life Lessons" reminds you what Mr. Scorsese can do with just 45 minutes.