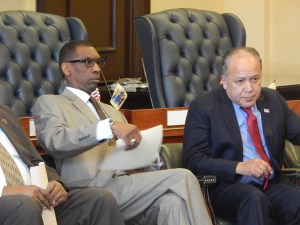 PATERSON – Twelve stories above the city in downtown Paterson in a building that juts directly over City Hall, Jose "Joey" Torres sat at a conference table and brooded on the mayor's contest.
"My beloved Paterson," said the former mayor, staring out at the industrially-fragged surrounding North Jersey hills a short time after participating in a morning ballot drawing.
It's an-eight person race for mayor this year and Torres had settled into a chair beside his nemesis, sitting Mayor Jeff Jones, as Clerk Jane Warren-Williams inserted capsules with names inside them into a wooden ballot box.
"I separate my personal life from policy," said Torres, when asked about his proximity to the man who caught him flat-footed in 2010 and narrowly turned him out of office in one of the biggest upsets of the year: 43.17% (8,650) to 40.14% (8,042).
"That was a policy thing," Torres said of the ballot drawing. "Jeff Jones and I have known each other for many years. We served together on the city council. I think there's mutual respect."
He may not have that same feeling for everyone in the contest.
But after working in Jackson as the business administrator, the mayor now wants badly to beat Jones, building on the 6th and 2nd ward pluralities he turned four years ago, dimmed by Jones' 1st and 3rd ward totals.
A few bodies removed from Jones on that same platform of contenders sat David Gilmore of the 1st ward, another mayoral candidate and Jones political enemy, three times denied in his effort to be the city's community development director, by Torres and by Jones.
Torres now is open to reassessing Gilmore for a city job the latter has long craved.
"What I've heard from him, he appears to know what he's talking about," Torres said. "I would have to do some vetting.
"I recognized at an early age that politics is the only mechanism to bring about change – rich or poor – the change agent goes to the polls," Torres added later in a Thursday interview with PolitickerNJ. "That is the path I have taken as a public servant."
His 95-year old Puerto Rican father came to the city in the 1950s and settled here as a bodega owner when only a handful of Latinos resided in Paterson (now Hispanics account for 58% of the population), said Torres, who won his first race for the City Council in 1990 and served as council president when Bill Pascrell was mayor in the 1990s.
The men forged a longtime political alliance and remain friendly, but not political allies this time.
Torres is seeking to reclaim City Hall on his own, as the congressman's political infrastructure shifts to Council President Andre Sayegh, who last Saturday kicked off his campaign in part by lassoing Torres and Jones in the same 12-year period of bad city management.
Sayegh sapped Torres four years ago in the critical sixth ward, losing his home ward to Torres by 600 votes but depriving the then-mayor of the plurality he needed to offset Jones' huge 1st and 3rd ward turnout numbers.
Torres objects to Sayegh's characterization of his work, pointing to his accomplishments as mayor, including facilitating hi signature creation of Center City, a downtown shopping mall, complete with movie theater; gains that took a skid during the Jones years, the former mayor argues.
"That was a project that was 35 years in the making, but this mayor did it," Torres said.
If Jones developed a reputation in office as someone who lacks a less than deft touch with other politicians, including Pascrell, Torres argues that he had that knack. He had a good relationship with then-Gov. Jon Corzine, for example. And Jones has said repeatedly that the city suffered with Republican Chris Christie as governor, Torres maintains that he has a good relationship with Christie, going back to when Christie served as U.S. Attorney.
In fact, he got a call from Christie once when the latter was the U.S. Attorney, and Torres, in the midst of Christie's rack ups of corrupt politicians, checked with allies about what Christie wanted. Torres' friends told him that if he were in any trouble, Christie wouldn't be calling him personally.
Torres called him back, he said, and worked comfortably with the then-U.S. Attorney on the development of the city armory. Later, during Christie's first year, Torres said he had no problem working with him.
"The governor and I were in sync," he said.
On Day one if re-elected on May 13th, Torres said he would undertake desk audits of every department.
He plans to bring back the cops the city laid off: 15-20 police officers per year for the next four years, to get Paterson back up to where its police force was when Torres was mayor.
The state has ordered the city's use of class 1 special police officers to reinforce fulltime officers. One of Torres' rivals in the mayor's race, former Councilman Aslon Goow, Sr., wants class 2 specials, who are authorized to carry sidearms.
Torres said by statute the city can't hire the class 2 specials Goow wants.
Torres says he wants to employ the class 1 part time officers to relieve fulltime officers from traffic directing and other duties that can enable them to spend more time fighting crime.
He also wants to revamp the police department's antiquated computer system to improve police response time. "The key is if we don't create a safe environment, the venture capitalists aren't going to invest and I am unable to shift the tax base from John Q public," Torres said.
In his attempt to get back into city politics, Torres has hit early stumbling blocks to gaining a firm foothold on his re-election chances, including wounding rolling headlines concerning $74,000 he received in accrued vacation and sick days when he left office in 2010.
"Generally, elected officers are not entitled to severance compensation or any other compensation unless lawfully adopted salary ordinances provide for such compensation," Tom Neff, director of the state Division of Local Government Services, wrote to Paterson Acting Corporation Counsel Domenick Stampone on Feb. 10, underscoring local oversight of the issue. "A review of such applicability should have been undertaken by the city itself prior to making such payments to Mayor Torres."
Torres points out that the money in question goes back to what the city owed him since 1985, when he first landed on the public payroll in the housing authority – not for eight years as mayor. He says the city council signed off on his accrued vacation and sick day package in accord with Paterson's salary ordinance.
If he can get through the early battering and maintain his base, Torres and his allies are confident that a weakened Jones won't turn out what he did in 2010, when star recreation director (now Assemblyman) Benjie Wimberly was on the ticket and propelled giant numbers for the African American candidates in the 1st and 3rd wards (2-1 over Torres four years ago). Deprived of Wimberly and complicated by two other African-Americans in the race (Gilmore and Donna Nelson Ivy) and his own record in office, Jones can't muster what he did in 2010, they maintain.
Sayegh (16.6% of the vote in 2010) will have to fight Goow in Ward 6, where four years he still fell 600 votes shy of what Torres received in the Arab-Latino part of town, Torres' allies say.
Sayegh's hopes to cancel out Torres and Jones lie in the fact that Torres must contend with Councilman Rigo Rodriguez – who could drain Latino votes from Torres; and the energized presence in the contest of activist Maria Teresa Feliciano, who's already bomb-throwing in the former mayor's direction.
But Torres doesn't want to talk about Sayegh, the man who now has the backing of Pascrell partisans, the man he holds responsible for cutting into him in 2010 and weakening his turnout and giving the city Jones a disaster as mayor, in Torres' opinion.
Jones. Sayegh.
He doesn't want to hear about them, or talk about them.
"Let's talk about me," said Torres.
He can this time, he says, and will; unlike four years ago when he claims the burdens of office slowed him on the campaign trail and as the interview came to a close yesterday and having earlier traveled to the 6th ward to meet with Arab-American voters, Torres hurried out the door and down the elevator to another campaign event.