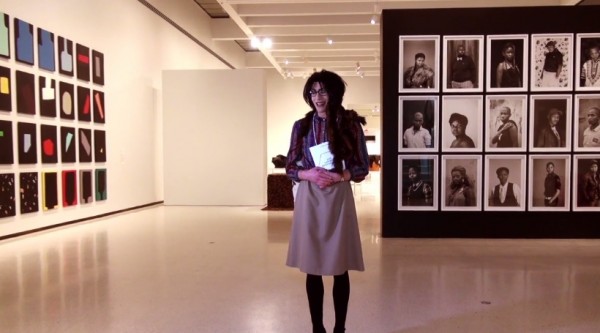 Time is running out to see the very excellent 2013 Carnegie International at Pittsburgh's Carnegie Museum of Art. It closes in just two days, on Sunday, March 14.
However, if there's no way for you to get over to the Steel City before then, here's a nice backup option: Maria Denolt, a self-described "art critic, lecturer, and lofty person," has posted online a handy video tour of some of the highlights from the "Queernegie International," and while some of her analyses are a little bit unconventional, what they lack in accuracy they more than make up for in enthusiasm.
Here she is on South African photographer Zanele Muholi's portraits:
…we see the most beautiful people on earth. Now I know what you're asking yourself: 'Maria, if they're portraits of people so beautiful, why are they in black and white?' They're in black and white because if the portraits were in full color you would die from all of the beauty. These people are especially beautiful because they are queer. Now queers have a natural transcendent connection to the world of art and beauty, the world from which I come.
Truthfully, even if you have been to the Carnegie, or plan to go this weekend, it's great viewing. Have a look over at Trans-Q Television, or below.
[vimeo 88147746 w=600 h=338]
Maria Denolt: Carnegie International 2013 from Harp + Silver on Vimeo.