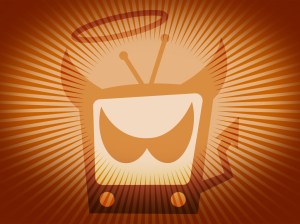 Recapping television shows has always struck me as an odd endeavor on the surface. Who are the recaps being written for? People who have seen the episodes of said show (in which case, why do they need to be told what happened?), and those who haven't (in which case, no spoilers!). The trick is, of course, making recapping into an art form—an entertaining piece of pop culture that stands on its own, whether you watch the show or not. Think of Richard Lawson's RHONY recaps, which were basically long-form fan fiction. Or Max Silvestri's Top Chef. Anything done by Starlee Kine, Gabe Delahaye or Andy Greenwald: on my worst days, when I think the Internet is a piece of garbage, I turn to these recaps to make me laugh.
So it is with a heavy heart that I found out today that the Alpha and Omega of TV recapping sites, Television Without Pity, was being shuttered.

See, this is what you get when you take a buyout from Bravo/NBC (as TVWoP did in 2008)—the off-chance that you'll be unplugged, and that your death will be noted in a roundup of other sites, like DailyCandy, which are also being taken offline by your parent company.
We cannot overstate the importance of the site that spawned Tara Ariano and all of Previously.TV—it was the site all of my friends and I would read in college to find out about Battlestar and Buffy. But as it was never really a money-maker for NBC, the decision has been made. At least some of the staffers might be relocated to different web presences. The ultimate irony being that could lead to someone like Aly Semigran being offered a job posting web junk for Fallon at The Tonight Show's blog.