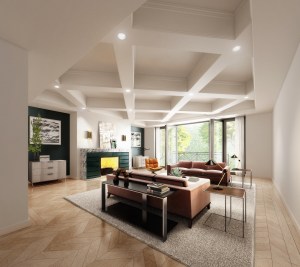 For the moment, the grandeur of the interiors slated for the landmarked townhouse at 79 Horatio Street, in the West Village, remains a matter of faith. On a recent morning, the Observer joined Tom Ryan, senior head of operations at Greystone, which is developing the property, for a tour of the house. Carpentry crews went to and fro with measuring tape and saws amid raw wood and exposed wiring. Architect's plans lay unfurled on a makeshift desk. "It takes vision," Mr. Ryan allowed. Still, the home, which is due for completion this spring, and which went on the market last week with Fredrik Eklund and John Gomes of Douglas Elliman asking $22.5 million, already shows promise.
"Interest has been incredibly strong," Mr. Ryan said. "And not from just tire-kickers, either. I'm talking about people whom—if you opened up the newspaper and saw them, you'd know who they are."
A former tenement house that once belonged to real estate hoarder William Gottlieb, 79 Horatio has undergone the better portion of a gut renovation since last we wrote about it in July 2012, when in its unimproved condition it hoped to fetch $12.5 million. (Greystone eventually picked it up for $10.45 million, intending the single-family conversion now under way.) Since then, a central air shaft has vanished and white paint has been stripped from the facade to expose handsome red brick, which appeared to have been scorched by fire, and which has been immaculately restored. Original cornices, too, have been buffed to a lustrous polish.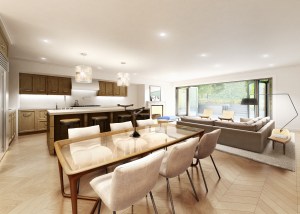 Inside, an elevator will service all six floors, which comprise roughly 7,000 square feet—and that doesn't count the 1,000 square-foot bi-level backyard garden. There will be six bedrooms, including a full-floor master suite with palatial his-and-her bathrooms featuring a Macassar Ebony vanity, custom marble work and a freestanding tub whose installation will necessitate the use of a crane . In all, there will be seven full baths plus three powder rooms. (If the locker rooms at the Meadowlands are ever on the fritz, 79 Horatio might make a practical post-game pit-stop for the Giants.)
Outfitted with an energy system that makes it more or less self-sufficient, the home will also make for an excellent bunker in the event, say, of zombie apocalypse. "If the power shuts down," Mr. Ryan told us, "pretty much all of your systems are going to function." That includes the climate control for the glass-walled wine room in the cellar, which will also house a media room capable of making Tony Soprano jealous. At the home's rear, the first three floors have walls made almost entirely of glass, and those above, too, are outfitted with enormous windows, affording views of the High Line and the Hudson River. From the roof deck, the Empire State Building and 1 World Trade are visible, and there is ample space for grilling and sunbathing.
Now, we ask you, in the event of city-wide disaster, can you think of a more comfortable and advantageous locale from which to observe the breakdown of social order? We didn't think so. So start saving those pennies.