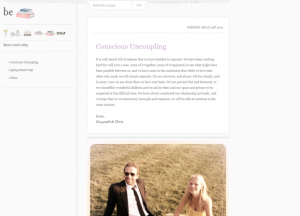 Yesterday evening, Gwyneth Paltrow announced her divorce "conscious uncoupling" from husband Chris Martin in her newsletter, GOOP. This comes after over a year of rumors about the actress' infidelity…first in a highly-anticipated Vanity Fair article that never was, and last month, in an anonymous tip via the Whisper app, which was picked up by Gawker.
This is what the note read; immediately after posting, the traffic on the GOOP site actually caused an internal server error. (The site is still currently down.)
It is with hearts full of sadness that we have decided to separate. We have been working hard for well over a year, some of it together, some of it separated, to see what might have been possible between us, and we have come to the conclusion that while we love each other very much we will remain separate. We are, however, and always will be a family, and in many ways we are closer than we have ever been. We are parents first and foremost, to two incredibly wonderful children and we ask for their and our space and privacy to be respected at this difficult time. We have always conducted our relationship privately, and we hope that as we consciously uncouple and coparent, we will be able to continue in the same manner.

Love,

Gwyneth & Chris
But what really caused Ms. Paltrow to make such a private decision public, and in her e-newsletter for $900 throws, no less? We take a look at five of the more implausible theories.
1. This was all a giant marketing scheme for GOOP.
[youtube http://www.youtube.com/watch?v=nnIXBKNhQHY]
Come on: We all know that GOOP's core audience has always been rich divorcés with too much time on their hands. (Why else would there be a section in their Pinterest board called "DO it for the kids," featuring a $100 velour bear suit? Because daddy feels guilty, that's why!) Now that Ms. Paltrow is single, GOOP can finally "lean in" to its fan base. Not that we're saying the whole marriage was a sham, but announcing the divorce on GOOP is bound to link the high-end luxury site with splurging on the "newly single, new you!"
2. Neetzan Zimmerman is secretly getting intel from Apple Paltrow

Why would a secret-sharing app need an "editor-in-chief"? That was the question we all were asking when former Gawker editor Neetzan Zimmerman defected to Whisper. Now we think we know: he's there to confirm the sourcing from the supposedly anonymous posts, as he did with the one that claimed that Paltrow was having an affair with lawyer Kevin Yorn. As he told his former employer:
I can't reveal their identity for obvious reasons, but it's a person with extremely close ties to Gwyneth who came to us directly after Graydon Carter wrote that missive about why VF walked away from the Paltrow profile last year.

I have no reason to suspect they're lying about this, and if anyone would know the truth, this person would.
Note that a day before Gwyneth dropped her GOOP-y bomb, Whisper announced its partnership with Buzzfeed. We can only assume Zimmerman's intel came from someone directly inside the Paltrow household, and as none of the adults had any clue what the app was at the time, it could have been Apple Paltrow, Gwyneth's 10-year-old daughter. (You know how kids love Whisper!)
3. This was timed to promote Chris Martin's appearance on The Voice.
[youtube http://www.youtube.com/watch?v=vON3u4qnfUA]
Did you guys miss this last night? In between the Adam Levine/Usher banter on NBC's The Voice, the show teased its "special advisor" for next week…Chris Martin. Again, this doesn't go to why they broke up, but more to the timing issue: The Voice news came on only several hours after the announcement on GOOP. (However, the Mick Jagger reference is probably just an unhappy coincidence.)
4. This was Gwyneth's power move to take over for Graydon Carter at Vanity Fair.

He did compare her to Kim Jong-un, you know. And his spiking of the story–that we now know contains at least some kernels of truth–is a big hit to the paper's credibility, showing that they were so crippled by the celebrity black-out enforced by Gwyneth and her team that they'd rather admit defeat than press onward. (Imagine if this had been a Scientology story!) With Graydon already taking some hits regarding his celebrity drawing power for Vanity Fair's parties, Paltrow scooping the news of her own breakup via GOOP might be seen as a move towards taking her brand into an actual publication. And what better magazine than the ultimate celebrity/lifestyle publication, which she's already proven to have power over?
5. Black Hole Theory
We're waiting to hear what Don Lemon has to say about this, but you will admit that there are certain similarities between the TV show Lost and the Goopy breakup. All that's missing is a smoke-free monster.