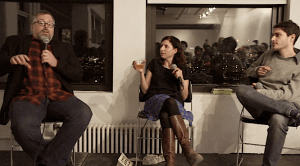 There's a reason more people want to go to gallery openings than readings: free drinks. And another thing: They can move. Being captive in a seat for an hour-plus, with a medicinal dose of bad wine, listening to bad poetry, might only inspire different wordless poetic interpretations of "Can I go now?" Not a fan or a friend? Forget it. Publishers are aware of this, as are booksellers, and its a perpetual problem trying to make readings appealing to people beyond a sense of obligation. Halfway between the Film Forum and the Trump Soho, a nondescript office building has been playing host to the FSG Originals Series, which pairs new books with a band, a free paperback and a healthy dose of booze.
On a recent Tuesday night, Jeff VanderMeer discussed his new book, Annihilation, the first of his Southern Reach trilogy, with public radio producer Starlee Kine and the Future of What guitarist Sam Axelrod. This was the fourth event in a series FSG Originals has tested out for more than a year now, later posting videos of the discussion and performance online. Conceived by FSG editors Emily Bell and Sean McDonald, as well as "Get Your War On" cartoonist David Rees (usually the host), the events aim to draw a less obviously literary group.
"Readings are great, and we love them, but we wanted to find a way to get beyond that crowd," Ms. Bell said. That the event was held the same night n+1 held the book launch for MFA vs. NYC seemed to ensure that.
The event had 187 RSVPs, though about half that showed up and still packed the room. "Every single event has been sold out," Ms. Bell said. "The free alcohol certainly helps. We wanted it to feel almost like a pop-up event or concert. Literary events can feel a little uptight at times."
Studio-X, where the readings are held, has white walls and poured-concrete floors, not unlike a gallery. (It's usually used for the Columbia Graduate School of Architecture, Planning and Preservation.) The event looked much like an opening but with more people wearing sweaters. A pair of friends both clad in gray beanies and gray sweaters observed, "We are so matching! We are so gray!" By 8 p.m., the event had drawn a mix of twentysomethings who worked in publicity, advertising and television or were, as one guest inevitably put it, "looking for a job at a start-up."
Mr. VanderMeer's novel is set in Area X, a pristine oasis much like Northern Florida, where the author lives, that has been cut off from the rest of the continent sometime in the future. Since the initial reports of this site, expedition after expedition has somehow been killed, been driven crazy or later suffered. The first installment centers on a group of four women making the 12th expedition.
"You mean, you wrote this kind of book because you live in Florida and that's where hope goes to die?" Ms. Kine asked Mr.VanderMeer.
"Have you read it?" Mr. VanderMeer soon asked the largely silent Mr. Axelrod, also wearing a sweater, of his novel.
"I'm in the middle of it," he replied. "I just got it two days ago." There was some awkward laughter from the crowd. "I'm reading War and Peace right now," he offered. "I'm in school right now."
"College!" someone in the back yelled out in solidarity.
Throughout the reading, drunken background noise became a problem; the long shoebox-style space, with the bar located in the back, meant a constant hum throughout the talk. At one point, the hosts confusedly stopped their conversation as a large group spoke at full volume in the back. A bespectacled balding man in wire-rim glasses kept looking back angrily to no avail. Also: nowhere to sit. The talking in the back continued louder. People had begun to sit on the floor.
The Transom had one question after it was over: Is this a good format for a reading?
Ms. Kine gave a firm "no" after she left the stage. "There needed to be chairs." As for the talking in the back, she said, "That doesn't feel good."
Readings and panels usually intend to get people to buy the book, but here free copies could be grabbed at the makeshift bar. Mr. McDonald said the event was meant to feel more like "a party atmosphere. We don't want people to feel like we were pressing things on them," he added. "We don't want it to feel like it's a hard-sell situation." He and Ms. Bell also did not want to use the word "branding" to describe what they're after.
"You give people some drinks, and they'll forgive you," Mr. McDonald said.
The night ended with a performance by the Future of What playing a synth-heavy set led by a singer with a breathy baby-doll voice. When it was over, some people lingered while the Transom booked it to Botanica for the MFA vs. NYC after-party.