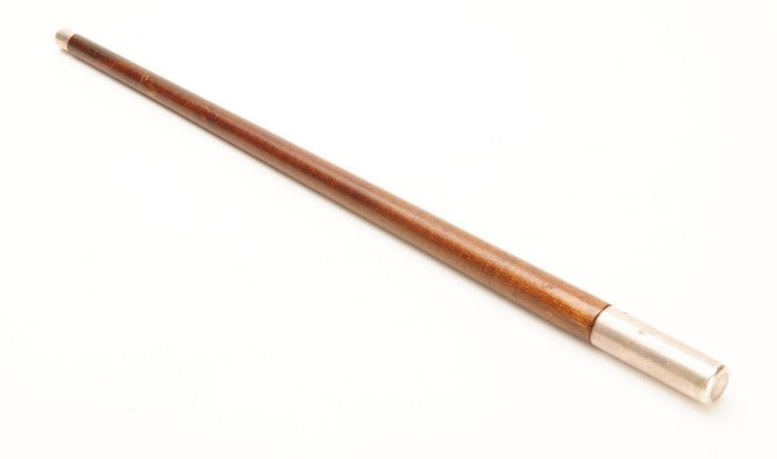 Lost in Luxury, never to return is the jogging stick. Believe it or not, this was the New York gentleman's ultimate accessory in the late 19th Century. Today, men's accessories span the spectrum from brooches and lapel pins to bracelets, bangles and beyond. Back in the late 1800s when options were more limited, a gentleman's accessories needed to be useful as well as stylish. Formal dress codes limited a fellow's ability to buy and wear say, a solid gold ID bracelet to celebrate his horse-winnings. However, if he felt like flashing some excess cash, the 14″ walnut jogging stick with a sterling silver tip was available from jewelers Reed & Barton.
This baton, once sold by New York City jewelers, was created by Charles E. Barton of the Reed & Barton company in the mid-1800s. The wooden stick was tailored to gentlemen who needed to shoo away dogs, or even undesirable acquaintances, while they were out for their morning jog. The end of the sterling silver tip is inscribed with "Reed & Barton, Sterling." The other end of the baton has different sayings, such as "Run for your life." Useful as they were, the wooden wonders were only made by Reed and Barton for two and a half years. Many other city jewelers cashed in though and there were still ads running for the jogging stick in New York magazines towards the end of the 1970s. Most modern New Yorkers though, are lucky enough never to have actually seen a jogging stick in real life.
If you're thinking this magic wand sounds very practical for your morning run along the FDR or through Central Park, don't fret. There are many available for purchase online. This relic will cost any reminiscer approximately $200.