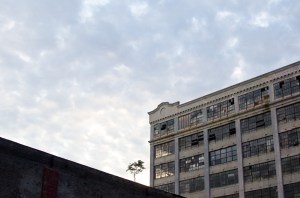 It's an old dance, and a rather tired one—artists move into new neighborhoods, get priced out, move, get priced out—a seemingly endless repetition of advance and retreat. But there are only so many steps that artists can take in a finite amount of space, only so many neighborhoods that they can flee to when their studios are converted into luxury condos. And now, The New York Times reports, the dance may be nearing its end. In a city as expensive as New York is, there just aren't that many places left to go.
While artists are accustomed to being priced out of neighborhoods as they gentrify, being priced out of a gritty one is still relatively rare. Though it may not be for long. Today The Times profiled the artists who were recently pushed out of Industry City, the Sunset Park complex that was bought last year by a partnership that included Jamestown Properties (owners of Chelsea Market) by rising rents. Though some artists do remain in the complex, studios rents, particularly in the ground floor spaces, went up hundreds of dollars a month—an often unworkable increase for artists who are already paying New York rents on another apartment. (Industry City was not a live/work space.)
Approximately 50 artists left the complex after the rent hike, according to The Times, many of whom have failed to find another studio space. Instead, they have holed up with other artists or annexed sections of their already small apartments to work in. Those that had found new studios have almost invariably moved into smaller ones. The size of their art, along with their dreams of a long-term future working in New York, has diminished.
Having been priced out of an isolated industrial complex in a neighborhood that is still less up than coming, there are few options to chose from; even places like Mott Haven and Ridgewood are not very affordable anymore, nor do they have abundant studio options. And landlords are wary of signing all but the shortest of leases, knowing that they will likely be able to charge much more a few years hence. Meaning that a 10- or 20-year cycle of displacement has accelerated to a 2- to 4-year cycle, part of the process of hyper-gentrification that has made an always-difficult existence in New York nearly impossible.
"All I can see is going further out, then having to move again," one painter who has moved roughly every four years of his long career told The Times. "I just can't take it anymore."
And with fewer and fewer places for artists to relocate to, and less time in-between moves, communities are being dispersed. Artists are isolated from one another, studio visits difficult—the very things that made living in New York worthwhile in the first place fading away. After all, if the physical space to produce art were all that was needed, one could always move to rural Ohio. For some artists it is, but most require some dialogue with the larger art world, a conversation that has helped to make New York relevant for centuries. But might not for very much longer. Sometimes a place can be too popular for its own good.
Maybe it's time that artists finally took Patti Smith recommendation and move to Detroit: "New York City has been taken away from you … So my advice is: Find a new city."