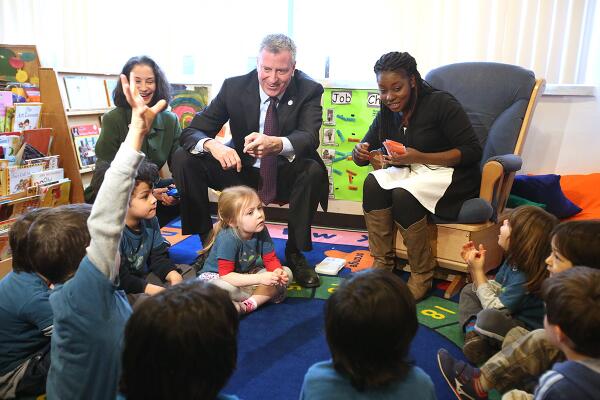 Mayor Bill de Blasio visited a prekindergarten program in Sunnyside, Queen today, where he learned all kinds of interesting, increasingly cute things about his job, according to a pool report from the event.
"Who is the president?" a boy asked, to laughs, after Mr. de Blasio strolled in.
"The president is Barack Obama, but I am the mayor. Do you know what a mayor does?" replied Mr. de Blasio.
Christopher answered, "The mayor eats food."
"Yes I do," agreed the mayor. 
"The mayor does his work!" added Christopher. 
"Does the mayor make sure kids have good schools to go to?" asked Mr. de Blasio, who is currently in the middle of a push to get funding to expand pre-K programs in the five boroughs.
"Ah, yeah!" exclaimed Christopher. 
"Yes!" Mr. de Blasio cheered. "See, that's the right answer"
Later, in another classroom, Mr. de Blasio posed the same question: "Do you know what the mayor does?"
A child, raising his hand, replies, "He rules only one city!"
Mr. de Blasio, who campaigned for mayor with a "Tale of Two Cities" theme, agreed again.
"That's right," he said, laughing, "We're making it one city."