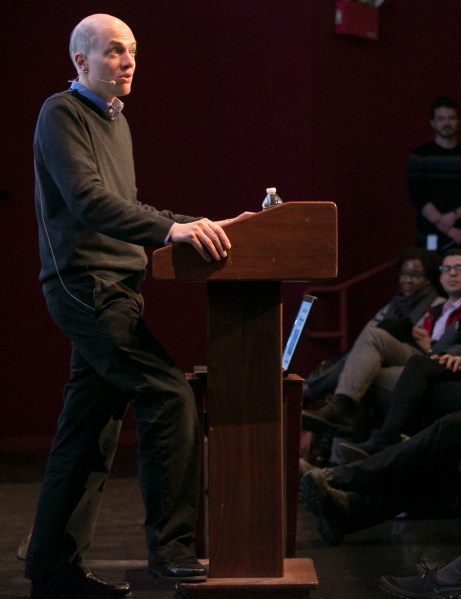 The pop philosopher and self-help author Alain de Botton has taken on an impressively wide array of subjects, such as love, sex, travel, happiness and religion. In his latest work, Mr. de Botton puts on his press critic fedora and turns his attention to something more concrete: the media.
He finds many faults. "The news is committed to laying before us whatever is supposed to be most unusual and important in the world," Mr. de Botton writes in The News: A User's Manual. "Yet for all its determined pursuit of the anomalous, the one thing the news skillfully avoids training its eye on is itself and the predominant position it has achieved in our lives."
This isn't entirely true. Media writers like Jack Shafer, David Carr, Dan Kennedy and, if we may be so bold, Off the Record, help cut the media—an admittedly vainglorious beast—down to size. Public editors like Margaret Sullivan and ombudsmen such as Michael Getler do this, too. And let's not forget the late A.J. Liebling, whose "Wayward Press" column, which he wrote for The New Yorker between 1945 and 1963, is the gold standard of media criticism.
But the news, as any sensible reporter knows, could always benefit from a helpful critique. So it was with an open mind that Off the Record attended Mr. de Botton's talk on Monday night at the Brooklyn Academy Of Music.
"The architecture of the news has broken down," Mr. de Botton said, manipulating the screen behind him so it flashed back and forth between an image of Taylor Swift's legs and a melting glacier. "What's going on? Have we become degenerate?"
Mr. de Botton is, rightfully, skeptical of the way the news works. It doesn't probe, he notes in his book, and needs more context, especially when it comes to "ghoulish" events like plane crashes and murders. After all, Mr. de Botton observes, War and Peace, Madame Bovary and Antigone were, "in their original state," news events.
"The news takes us to the edge of something deeply interesting but doesn't do anything with it," Mr. de Botton said. There is, he added, no catharsis, as a good Greek tragedy or Russian novel offers.
(Give us a break, Mr. de Botton—we should all be so lucky to write War and Peace on deadline. And there's something to be said for the brief, surrealistic news distillations—or fait divers—of Felix Feneon.)
Mr. de Botton is trying to slow things down, which is a worthwhile goal in the digital age. But his portrayal of the media feels somewhat monolithic and old-fashioned. While Mr. de Botton is a witty, delightful and prolific presence on Twitter, for instance, he didn't discuss the social media site all that much as a resource for news.
Mr. de Botton regards things in the abstract, as philosophers are wont to do, and so his diagnoses often seem grand and thought-provoking at first but come off as turgid and slightly flatulent upon deeper consideration.
The news, Mr. de Botton writes, in one of many painstakingly obvious passages, "merely selectively fashions reality through the choices it makes about which stories to cast its spotlight on and which ones to leave out."
But what Mr. de Botton doesn't mention is that every piece of writing does exactly that, including his book. We're even doing it right now, to simplify Mr. de Botton in the way the media demands.
Mr. de Botton's presentation had the hip, messianic, superficial sheen of a TED Talk. His desire to improve the news, he said, springs from his wish to make the world better.
And so Mr. de Botton has started his own website, called The Philosophers' Mail—"the only worldwide news outlet," he said, "run entirely by philosophers." It's a charming site, if only for its japing, radical dullness; its articles are deep, well thought out and seem to operate outside of time. A selection of headlines: "Chaos and war in the Ukraine; you will survive or if not, will die quickly," "Interview with the soul of Russell Brand," and "One shouldn't need the excuse of a child to go to the zoo." It won't replace the news, but it's a worthwhile respite.
Near the end of the talk, Mr. de Botton reminded the audience that the news, which, he noted, focuses on what is new, is by no means an exhaustive view of reality. "It misses guys like this," Mr. de Botton said, pointing to a picture of a cute song bird projected onto the screen.
What Mr. de Botton failed to note is that cute animals are exactly what the news could use less of.