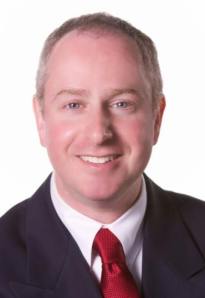 Heading into tonight's Hunterdon County GOP convention, cement business owner Brian Goldberg feels like he's standing on a solid foundation.
The 40-year-old West Orange resident, a self-described mainstream Republican, won seven county lines in his quest to secure the GOP nomination to run against U.S. Sen. Cory Booker (D-NJ).
Those lines – the most amassed by any single candidate in the race – arguably make Goldberg the frontrunner in a field of five contenders by turns scrapping or fading in a hard-to-pin-down contest.
In no particular order, Goldberg has racked Ocean, his home county of Essex where he serves as a party committee member, Somerset, Cumberland, Passaic, Mercer and Atlantic.
As the candidates headed for the parking lot last week in Ocean, someone on the losing sides bitterly speculated that Goldberg must have contributed some cash to the county party organization.
Goldberg laughed.
"That's absolutely not true," said the Republican candidate, pointing out that he only gave money to the Middlesex GOP at a party dinner.
"And that didn't seem to do much," he cracked.
His rival Murray Sabrin won the line in Middlesex this past weekend.
As Goldberg takes on the look of establishment favorite alongside, others in the race have also taken to questioning his conservative cred.
The father of two daughters is personally pro-life, for example, although he supports a woman's right to choose.
But besides that, "I don't think there's a single issue where I wouldn't be called conservative," said Goldberg, who has a computer science and engineering background. "A lot of my platform is focused on jobs and the economy and the proposition that people will succeed if we give them opportunities. My focus is to help people become independent."
He's a big 2nd Amendment backer.
Just don't ask him to bag a moose.
"I do not support gun control, though I've never fired a gun in my life," he said. "I never held a gun."
That from a candidate who wants to succeed as the party nominee a man who last year said, "We go to the shooting ranges on Saturday, church on Sunday and work on Monday," feeding whispered criticism that Goldbreg is too nice to launch a sustained offensive against Booker, the way Steve Lonegan did last year.
The candidate said he will have no problem going into Newark to expose Booker's weaknesses.
But he admits he has a decidedly different style from last year's Republican candidate for U.S. Senate.
"I live ten minutes outside of Newark," said the West Orange resident. "But where I think Mayor Lonegan had trouble last year was the way he brought his message across. I have a positive way of communicating and I am not about alienating people.
"I'm relentlessly positive," he added, borrowing a line from a coach he knew when he went to UCLA. "My nature is to always be positive and not angry. I'm averse to personal attacks. This watershed issue, clearly Senator Booker failed to provide the necessary oversight. But if I highlight that, I don't think that makes the campaign negative."
Money?
Goldberg said to this point he has focused on harvesting petitions and landing the endorsements of key county party committees, but he expects to be able to raise in the high seven or low eight figures.
PolitickerNJ asked Goldberg if he believes Bridgegate dropped-kicked the Republican brand in New Jersey.
"I don't know that it's damaged," he said. "The report that just came out seems well on its way to exonerating the governor."
The U.S. Senate candidate wants to focus on what he describes as President Barack Obama's failed record.
"One of the problems is that I don't know that the current administration has a foreign policy," he said. "This entire crisis in Crimea comes as a consequence of our inability to exert influence. Putin came in and did what he wanted because we set the stage."
And he wants to focus on Booker.
"Based on the endorsements, compared to the other candidates, I guess I'm in the lead," Goldberg said. "I still am not taking anything for granted."