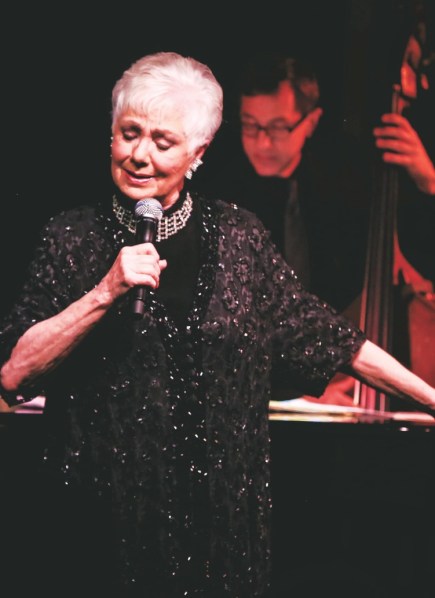 A warming thaw has arrived at the Café Carlyle just in time to melt the ice on the curb. It is called Shirley Jones, and it's a gentle reminder that although the world is changing, mostly for the worst, a few things musical still remain to remind us of safer, happier and sunnier times.
This is good news, since it follows so soon after the nasty aftertaste of this year's creepy, self-indulgent Academy Awards show, in which the nominated songs were all a nauseating disgrace, Idina Menzel confused screaming with singing, and a tin-eared creature called Pink massacred what was left of "Over the Rainbow." Pink is an athlete who is known for doing an aerial act while singing. Too bad she didn't bounce right out of the theater and into a drainage ditch, saving people with taste the ultimate horror of hearing her caterwaul her way through lyrics by Yip Harburg she couldn't even pronounce. Is it any wonder the luster of Shirley Jones comes as a refreshing antidote?
Before she arrives like a sunflower nourished by neon, a montage of Technicolor film clips precede her light, showing everything from The Partridge Family to the all-American girl in the surrey with the fringe on top from Oklahoma!, Marian the librarian, heartbreaking Julie Jordan in Carousel, singing with Sinatra, winning her Oscar for playing a prostitute in Elmer Gantry and beaming down from the cover of Life. And there she is. At 80, after four kids and 9 grandchildren, as well as a stepson and two stepgrandchildren, she can still reach the high notes on "If I Loved You." She always could.
When she was 17 and the youngest member of the church choir in her tiny little town in Pennsylvania, she came to New York and auditioned on a fluke for Oscar Hammerstein II. She didn't even know who he was, but he asked her to sing again so his partner could hear her voice, clear as a Fostoria glass. His partner's name was Richard Rodgers. She didn't know who he was, either. Her accompanist had to leave. Messrs. Rodgers and Hammerstein escorted her across the street, where they were rehearsing South Pacific with a full orchestra. She sang again. Three weeks later, she landed in the chorus of the original Broadway cast, washing that man right out of her hair next to Mary Martin. Instead of going home to finish school, she journeyed farther west to Hollywood, starred in the movie version of Oklahoma!, and to make a long story short, the rest is history.
Now, on the heels of a spicy, recently published autobiography that startled fans, proved she was a great deal more than the girl next door and left the ladies at Vacation Bible School panting, she's bathing in the amber glow of the soft lighting in the posh room Bobby Short called home in the days when she was too broke to go anywhere spiffier than the Automat. This is sort of a "comeback" because she hasn't sung in a supper club for eons, but she hasn't forgotten a thing. She was clearly nervous in her two opening numbers, but by the time she got her groove back, she was scaling octaves on "Till There Was You" just like she did in The Music Man and revealing the inside skinny on her lives and loves in the center ring. Burt Lancaster was the best kisser, but she really fell in love with Richard Widmark. She tells more, making you feel like a welcome dinner guest in her own living room. And she never runs out of songs.
As closely associated with Rodgers and Hammerstein as she has been from the start, she also displays a fondness for the lighter touch of Rodgers and Hart on "This Can't Be Love" and "Where or When." Time is not always a soprano's best friend; sometimes, the voice loses its edge, and the pitch wavers. But except for "Send in the Clowns," which might benefit from a lower key, she's one octogenarian who has defied the odds. She's not only musical, but her singing seems to be personal—and spiritual, too. Music has always been in her. It's fun to have her back in town (through March 15), sharing her taste and her tonsils. An evening with Shirley Jones makes music sound purer and safer. You go away smiling.