From the moment that the Whitney Museum revealed that the 2014 biennial would have three curators, each organizing a show on a separate floor, I've been worrying. The decision sounded like an abdication of responsibility, a downgrading of the museum's trademark show, and a recipe for a colossal disaster.
I was wrong. This year's biennial is not a disaster, but neither is it anything close to a success. It is deeply dissatisfying—a wunderkammer-like, all-over-the-place show that offers some remarkable pleasures and far too many enervating frustrations. It pulls you in not three, but dozens of different directions, plenty of which are dead ends. The quality of the art is dramatically uneven, the tone uncertain. Some work agilely somersaults forward. Too much is frighteningly adrift. There are baffling omissions.
The thrill of the biennial has always been its attempt to capture the moment, presenting the public a view on art today. This three-part approach amounts to a dodge, an attempt to please too many constituencies that will instead please no one. With 103 participants—twice the number in 2012's excellent, poetic edition, which was organized by Jay Sanders and Elisabeth Sussman, Whitney curators who advised this year's triumvirate—the overstuffed biennial is back, shortchanging artists.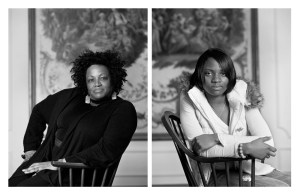 In a sense, though, it feels like an honest description of today's art world, which is deeply riven, between money and the museum, pop culture and the underground, and marked by competing visions. The biennial captures—or is perhaps just caught up in—this fraught, tense moment, but is unable to make anything fruitful out of it.
You sense that tension from the moment you enter the show and hear Sergei Tcherepnin's clever sound piece, made with transducers attached to the lights in the lobby of the Breuer building. It crackles and clicks and squeals—discomfiting noise made by the creaks and vibrations of the institution itself.
Climb the stairwell and you find speaker after speaker letting out harsh, buzzy drones, occasionally interrupted by frightful chanting. It's the work of experimental music doyen Charlemagne Palestine, who spent time in the stairwell recording it (his customary glass of cognac in hand, a placard notes), evoking the artistic ghosts who haunt it, and the backdrop of history against which artists must now act.
Keep climbing. I recommend, while your eyes are still fresh, starting on the action-packed fourth floor, which belongs to the painter and professor Michelle Grabner, who is based in Chicago, runs alternative spaces in Oak Park, Ill., and Little Wolf, Wisc., and is responsible for about half the show's participants. It's a barnburner of an expressionist painting display, rich with women artists, and an inclusive, rollicking celebration of craft.
It's mayhem up there! Thick streams of fabric in pungent colors spill down from the ceiling, the work of artist Sheila Hicks, who is 80 this year, not far from three large, brash ceramic urns, oozing with lava, by Sterling Ruby. The excellent New Yorker Dona Nelson has two large paintings that she's dyed wildly and stitched with rambling string. They jut from the wall, so you can savor both sides of them. They dazzle, as do two precise geometric abstractions by Dan Walsh.
Ms. Grabner comes dangerously close to overcrowding her show. These works are breathing, but barely. With 36 artists on the floor (more are elsewhere), there's only room for a single, superb painting by Laura Owens, an Angeleno who is easily one of today's most exciting painters, making magic out of a spliced cartoon, grids and marks, which she subtly tangles Photoshop-style on her canvases. With two or three more (at least), you could get a sense of her range (ditto for the strong, sparkling Jacqueline Humphries), but instead they have to share the floor with a bevy of weak abstractions, by Molly Zuckerman-Hartung, Suzanne McClelland and Tony Lewis.
Potentially daring moments always feel close at hand, if only they could have been fleshed out. There are a few beautiful portraits that address the legacy of racial violence by Dawoud Bey (plus, speaking of tension, one of President Obama), two elegant works by the late, great Pictures Generation artist Sarah Charlesworth, a lone Gretchen Bender (lovingly remade by Phillip Vanderhyden). The stop-motion animation of two men playing a form of proto-tennis, by Joshua Mosley, is a gem, but it's only three minutes long. Again and again you will yearn for more.
Those who regularly mourn the lack of ravishment in biennials will at least be heartened by Ms. Grabner's celebration of the hard-won and handmade, in a long shelf of some 70 humble ceramics by Shio Kusaka that ooze dedication, plus Ken Price-worthy walnut and marble forms by Alma Allen and slow-burn ceramics from veteran John Mason.

The visual punch decreases with each floor, reaching a kind of steady state on floor three, in the hands of Stuart Comer, a former Tate curator who recently became head of performance and media art at the Museum of Modern Art. He delivers the strongest section, with 23 artists, gamely mixing media and championing multi-taskers, beginning with a decisive palate cleanser in the form of 89-year-old Lebanese-born polymath Etel Adnan, whose ingenious scrolls (admixtures of painting and text) and spare canvases of the view from her Bay Area window set the tone, radiating a warmth that is intimate and personal.
Secrets are being shared on floor three; bodies are morphing, writhing and posing. Keith Mayerson has hung, salon-style, a sublime and idiosyncratic vision of Americana, with Abraham Lincoln, Superman, James Dean (masturbating in a tree) and more. Jacolby Satterwhite, who is among the youngest artists here, has a bewitching video in which he hurtles in costume through interstellar space, time and identities. Zackary Drucker and Rhys Ernst document, in heartrending photos, their sex changes, male to female and female to male. Bjarne Melgaard steals the show with a madcap, hellish lounge-lair filled with lugubrious sofas, absurd projections, vacuums, sex dolls, penis dolls and a holographic monitor of monkeys mating. It all apparently has to do with our overheating, out-of-control age—the anthropocene—and it does not suggest things are going to turn out so well.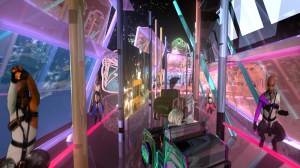 Mr. Melgaard is one of the few real New York stars here. Even if biennials are no longer as much about who's in and who's out in any given year, it's shocking that not one artist from the exciting, fast-emerging gangs who have been featured in recent shows at MoMA PS1—and even the 2013 Lyon Biennale—is here.
Bland conceptual-architectural works, the bane of curatorial-intensive biennials, put a drag on things in Mr. Comer's section, particularly from Morgan Fisher and Yve Laris Cohen, who parrot institutional critiques that we've heard about for decades. Meanwhile, bland paintings by Dashiell Manley, which are displayed in an inconceivably large faux storage space, figure in an equally bland stop-motion video (it's time to kill off the painting-as-prop trope).
Thankfully, these whiffs are balanced out by Mr. Comer's thoughtful, elegiac attention to history. He has intricate geometric drawings by the late Channa Horwitz, open-ended scores for other mediums, and gives a room to Richard Hawkins and Catherine Opie to organize a show of the deliriously camp but seriously refined paintings of Tony Greene, who died in of AIDS in 1990, and another to curator Julie Ault, who features works and ephemera from her friends and collaborators, like the late Martin Wong and Matt Wolf, who recalls in an audio slide show how, as a teen in the 1990s, he typed "gay" and "art" into a search engine, and discovered David Wojnarowciz, another AIDS casualty, who was a redoubtable artist and activist. What more can we hope for from artists? (Not to mention our search engines?)
Anthony Elms, a curator at Philadelphia's Institute of Contemporary Art, is asking something like that on the second floor, where visual delectation plummets almost to zero, saved only by two exuberant paintings by Rebecca Morris. (Even Charline von Heyl, typically a showstopper, delivers underwhelming black-and-white collages.)
A mournful tone prevails. There are stretches of white wall, empty spaces on the floor. Poet Susan Howe's texts, lining one vitrine, are bare fragments, wasting away. Joseph Grigely includes archival materials from art critic Gregory Battock, who was murdered in 1980—iconoclastic articles and accounts of his sexual escapades (the remarkable backstory is worth reading in the biennial's treasure-filled, if overstuffed, catalogue, to which—full disclosure—I contributed an interview). Marc Fischer, who runs a Chicago organization called Public Collectors, stages a miniature memorial to Chicagoan Malachi Ritscher with iPods stocked with experimental music concerts that Ritscher taped in the Windy City from the 1980s until his 2006 death by self-immolation, protesting the Iraq War.
There are some fine moments—Michel Auder's hypnotic, noir-filled video room (nighttime cityscapes, peeks through windows), Paul P.'s handsome desk and quiet drawings, truly odd, alluring sculptures by Carol Jackson and works by the late Terry Adkins, rods lined with cymbals that map the structure of birdcalls, all the while recalling medieval devices for violence—but they're undercut by dry or slight works by Dave McKenzie, Gary Indiana and Allan Sekula.
Mr. Elms has vital ideas to share, like his positing an expansive definition of the artist that embraces anyone whose activities (collecting, archiving, cruising) take on aesthetic and ethical import through their care and devotion, but I kept wishing I could just read about it in a book.
More of the biennial will be unveiled in the coming weeks, with what looks like a potentially strong (and commendably manageable) video and performance program, including dance from Taisha Paggett, music from Pauline Oliveros and a new opera from the severely under-rated Robert Ashley, who passed away just days ago.
In the meantime, you can head downtown to find a monumental sculpture by Tony Tasset (part of Ms. Grabner's section) along the Hudson on West 17th Street. It's tiled with colored panels, engraved with almost 400,000 alphabetized names of artists from the 20th and 21st centuries. Mr. Tasset has discussed it as a way of removing hierarchy, of celebrating everyone equally. That's of course diametrically opposed to the idea of a biennial, and so I was pretty much expecting to hate it, as a smug, self-satisfied display of overwrought conceptualism. And yet, searching through it, hunting for the names of artists who have meant a great deal to me, I found it to be a moving exercise, my eyes coasting across thousands of unknown artists and coming across other favorites along the way. It offered some consolation—a reminder that over time artists get sifted out of obscurity, that history gets reimagined. This year's biennial may be a disappointment, but thousands of artists are hard at work, waiting in the wings. The 2016 biennial is not so far away.
(Through May 25, 2014)