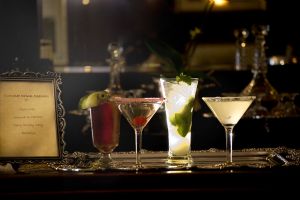 Fellas, why not just settle this over a drink?
The owner of a favorited Long Island City bar filed a lawsuit against a nearby establishment with a similar name yesterday.
Richard Boccato became fed up with patrons confusing his bar Dutch Kills with Dutch Kills Centraal, a bar that opened up less than a mile away last September.
Dutch Kills, named after its respective neighborhood, has been a highly acclaimed cocktail-focused haunt since it opened in 2009. It's been hailed as a leader in the mixed drink bar scene and was deemed "iconic" by Forbes in 2011.
Mr. Boccato claims that Dutch Kills Centraal is ripping off his bar's name, business model, and reputation.
His attorney, David DeStefano, sent the competing bar a cease-and-desist letter, urging the establishment to abandon their name.
"You do not have permission to use the mark in connection with your business," the letter stated. "You are instructed to cease and desist all use of the mark."
The suit claims that local entrepreneurs Dominic Stiller, Jean Cawley and Paul Cohen originally marketed their bar as Windmill Tap & Grill in 2012. But when the tavern opened to the public in September 2013, it was called Dutch Kills Centraal.
The accused owners refused to take down their sign, and instead, applied to trademark "Dutch Kills" three days later, the Post reported.
"Dutch Kills has been here for 400 years," Mr. Stiller told the Post. "We don't want to be stifled by a self-interested mixologist. If he wins this lawsuit that means there can never be a Dutch Kills bakery, a Dutch Kills restaurant, a Dutch Kills caterer."
Mr. Boccato filed for the trademark as well, claiming he established common law right to the name after being in business for five years.
"Bar trademark wars" certainly sounds like the next reality show, but let's hope not.