In late January, the artist Donelle Woolford, a black woman with short hair who looks to be in her mid 30s, was at the Los Angeles Art Book Fair, outfitted in a 1970s-style suit and mustache, doing a Richard Pryor routine. It went well, but it could have gone better. The book fair, she wrote in an email shortly afterward, "maybe wasn't the best context for a Richard Pryor routine." This particular routine was recorded as the final episode of Pryor's 1977 television show (which only lasted four episodes) and was pretty much engineered to be censored. "I think the audience was a bit taken aback by all the N-bombs and F-bombs," she said. Everywhere she has gone—a museum in San Francisco and community centers in Chicago and Oakland have been among her stops—audiences have reacted differently.
Ms. Woolford is one of the roughly 100 artists selected for the 2014 Whitney Biennial, one of the most prestigious group shows in the United States. The Biennial, which opens this week, is the center point of her nationwide tour, which is called "Dick's Last Stand" and runs through May. Whether Ms. Woolford is the artist whose work will appear under her name in the exhibition is a matter of your suspension of disbelief. The paintings, a series called "Dick Jokes," are actually the work of Joe Scanlan, a 52-year-old white man who has, over the course of Ms. Woolford's career, enlisted a number of women to be her. The Pryor routine is the result of not just one impersonation but layers of them.
"Joe was the very first artist I asked to visit when I started on my studio-visit process for the W.B.," the artist Michelle Grabner, who is co-curating this year's Whitney Biennial, told me via email. "I invited both Joe and Donelle. Joe turned my invitation down, but Donelle agreed to participate." I had asked why she felt Ms. Woolford's work seemed important to show. "Donelle is foremost compelling to me as an invention of Joe Scanlan," she said.
Ms. Woolford was willed into existence more than a decade ago, when Mr. Scanlan was working in his studio, making a new series of collages. "I liked them, but they seemed like they would be more interesting if someone else made them, someone who could better exploit their historical and cultural references," he's said. "So I studied the collages for a while and let them tell me who their author should be."
The person that made them, he decided, was an African-American woman who was born in Conyers, Ga., the second of three children in a relatively affluent family. Her father is a lawyer, and her mother a natural healer. Interested in art from a young age, she experimented with numerous mediums in her youth and earned a B.A. in fine art, with a concentration in graphic design, from Yale. She got her name from a professional football player.
There is, of course, a long history of artists making work under pseudonyms or inventing alternate characters. Marcel Duchamp dressed up and made work as Rrose Sélavy. Decades later, Richard Prince and Colin de Land (allegedly) created art under the name John Dogg. More recently, paintings by a Henry Codax have been alighting at galleries and at least one auction house, his real identity a subject of some speculation. None of these alter egos have been interracial; Mr. Scanlan was onto something quite a bit more radical and potentially incendiary.
In a coincidence that could only happen in the art world, the Harlem-based curatorial duo Triple Candie was also working with a fictional African-American artist at around the same time that Ms. Woolford's career was taking off. In 2006, they did a survey show with a post-minimalist named Lester Hayes who had died two years earlier in relative obscurity, long after a period of acclaim in the 1970s. They claimed to have recreated his works, which had been lost in a fire, but clearly billed their show as fiction.
"The fictitious Lester Hayes character provided us an opportunity to address and maybe complicate the notion of the 'failed artist' through the thorny lens of race, at a very specific moment in time, the height of the Black Arts movement," Triple Candie's Shelly Bancroft told me. "Yes, we constructed a persona, with a biography, for that purpose, but we weren't really interested in the shtick of the fictitious artist so much. It was an efficient and sensitive way to get at a subject."
Mr. Scanlan was living nearby and stopped into Triple Candie during the Hayes show, Ms. Bancroft said, and told her about Donelle Woolford. She understood Ms. Woolford as being very different from the Hayes project. "We think we have a moral/ethical obligation to inform our audiences that a subject is fictional, if indeed it is," she said. "Joe doesn't. In fact, for years he tried to keep the cat in the bag, but eventually it got out."
Do a quick Web search for Donelle Woolford today, and you pretty quickly come across mentions of Mr. Scanlan in reviews, and interviews with Ms. Woolford and Mr. Scanlan that lay out the story. You also come across portraits of Ms. Woolford, made with various actors, who work together with Mr. Scanlan on photo shoots, public appearances and performances, often at her openings. Today, Abigail Ramsay and Jennifer Kidwell, who performs the tricky 40-minute Pryor routine, are most involved.
A press release for Ms. Woolford's current gallery show, at Wallspace in Chelsea (her third there), notes for the first time that Ms. Woolford is fictional and lists three birthdates: 1977, 1980 and 1954. (She's now born in Detroit.) "It didn't make sense to maintain a fiction that everyone already knew as such," Mr. Scanlan said. However, he and his collaborators are still are not completely open about what's going on. "[W]e always introduce ourselves as Donelle, whether approaching a new venue or in front of a new audience," he continued. "And there's a moment when the institution or the individual has to decide if and how they want to react."
The Pryor tour ended up revealing as much about the venues in which art is displayed as it did about the artwork on view. At the CCA Wattis Institute for Contemporary Arts in San Francisco, Ms. Kidwell told me, "I felt as though the crowd was beholden to the space." Oakland "was another matter altogether. We did that show in Solespace, a shoe store/community space. It is an exhibition space—they'd had an opening just the night before the show—but they host performances all the time. The crowd was there to laugh and enjoy the show, and it felt great! It was hot and fun. After the show, we had a moderated talk-back, which was even livelier: The first questioner decried the show as a travesty that Richard Pryor would have hated."
Detroit was an interesting story. Earlier last year, the Museum of Contemporary Art's curator of public programs, Greg Baise, got an email from Ms. Woolford about her tour. He did a little research and reacted with enthusiasm. "I had never heard of Donelle, so the first thing I did was to check to see who was in the Whitney Biennial this year. There her name was," he said in a phone interview. "Her time line of a biography," published on a site run by Mr. Scanlan, "came up, and it said she was born in Detroit. Between her being in the biennial and her being born in Detroit and the nature of her performance, I was like, 'This is going to be such a great fit with our programming right now!"
Another odd coincidence: It happened that Triple Candie was planning a show at MOCAD, involving ephemera they had created related to the performance artist James Lee Byars, so a recreated Richard Pryor bit sounded perfect. Mr. Baise mentioned it to Ms. Bancroft and her partner, Peter Nesbitt, and they asked him if he had talked to Mr. Scanlan. "Oh, Donelle passed me off to Joe," he told them. "He's going to be the tour manager." They explained the situation to him. Did he feel deceived? "Not really. It was an 'I get it' moment," he said. He likes the work even more now. "I'm glad that she is born in Detroit nowadays, because she hasn't always been!" he laughed. "Hometown pride."
MOCAD played it straight in its promotional materials, as the Whitney is doing (for the biennial, she was born in Georgia, in 1977). "Never would I say that Neil Hamburger is the alter ego of Gregg Turkington," Mr. Baise said. (He has booked the comedian as a concert promoter.) Nevertheless, he thought most people knew that Ms. Kidwell was playing the part of a fictional artist—a fictional artist playing Richard Pryor playing Richard Pryor on a television show playing a number of his trademark characters (Mudbone playing Miss Rudolph)—with identity going down the rabbit hole.
The performances have been controversial, though. Mr. Scanlan mentioned that some venues turned Ms. Woolford down or rescinded invitations after they were made. Ms. Grabner said that the Studio Museum in Harlem had "firmly declined to host Donelle's [Whitney Biennial] stand-up performance." (The museum declined to comment.) The performance takes place March 8 at the JACK arts center in Brooklyn.
The Biennial itself regularly comes under fire for underrepresentation of women and minorities. But Ms. Grabner says that discerning representation (or lack thereof) is trickier than just counting names on a list, since artists and collectives are involved at all sorts of different levels.  "I am not nervous about including Donelle, but I will not be surprised if there was push back."
"It excites me to think that there are projects and artists who can still rattle the rafters," Ms. Grabner added. "Joe Scanlan and Donelle Woolford are purposefully, not recklessly, doing just that."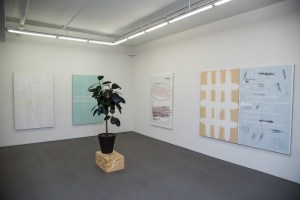 "The so-called trickster element of the early work was a bit overblown and always seemed like a red herring to me," Jane Hait, the cofounder of Wallspace, told me. Wallspace has done shows with both Mr. Scanlan and Ms. Woolford, whose exhibition there opened last month. "In some ways, for me, it was the least interesting part of the project." Instead, she said, "It feels like a timely examination of how art operates, how masculinity operates, how race operates, in art as well as in society as a whole."
Several "Dick Joke" paintings are on view in the show. They are printed with bawdy tales involving a character named Richard and elegant scribbles in the style of market-hot white male artists like Richard Prince (whose own "Joke" paintings can sell for seven figures), Christopher Wool, Michael Krebber and Albert Oehlen. "Richard is at the front door of a brothel," one begins. "Both his arms are in a cast. Both his legs are in a cast." The punch line concerns his ringing of the doorbell.
At the opening reception, Ms. Woolford did not appear to be present, but Mr. Scanlan was in full view. Wearing a scarf and sipping a Brooklyn Lager, he looked every bit like a professorial artist, and people greeted him warmly. "Congratulations!" one woman told him. "Did you know about Glenn Ligon's paintings?" (Mr. Ligon, a mid-career, African-American artist who had a Whitney retrospective in 2012, had made a series of paintings with Pryor jokes.) He did, he said, but had learned about them only after this series was started.
Watching this, everything began to seem topsy-turvy and open to doubt. What if Mr. Scanlan was the stand-in, I wondered, playing an artist who had set this elaborate, evolving story in motion?
Midway through my email interview with Ms. Woolford during her tour, Mr. Scanlan and Ms. Kidwell had started to respond in their own voices, and Ms. Kidwell mentioned a question that someone had asked in Oakland "regarding the relationship between comedy and tragedy."
"I think it's this sort of relationship that heightens the piece," she said. "There are these established binaries: comedy and tragedy, man and woman, black and white. These oppositions are safe. When these things are no longer at odds, things are disordered, somehow. I want to play in that sandbox."