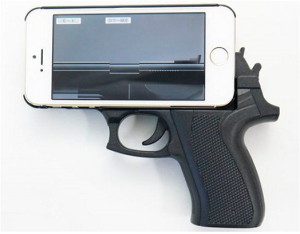 We've seen some pretty weird things up for sale on the Japan Trend Shop, but this handgun-shaped iPhone case might be their craziest product yet.
For $40, online shoppers can purchase "The Gun Grip Case iPhone 5 Cover" (cool name!), an iPhone 5 case that's shaped exactly like a handgun.
You can also download the accompanying free app, which turns your iPhone screen into an interactive gun barrel — perfect for playing gun-related games at parties, the site says. (Brush up on your language skills though, because the app is only available in Japanese.)    
Here's the unsettlingly cheerful product description:

"More a piece of equipment than a regular 'cover,' the Gun Grip Case transforms your iPhone 5 into a handgun! Available in black, white or pink, this fake 'pistol' works with an app so you can interact with a digital version of the gun in the same color on your iPhone 5 screen. The app means you can play games of Russian Roulette at parties! Don't worry, you can't actually shoot anyone!"
That's cool — it does suck when our party guests get accidentally shot. Also, this handgun thing definitely sounds safer than the phone case equipped with an actual, working stun-gun.
But in all seriousness, can we stop turning handguns into trendy accessories? They're not cute, stylish or funny; they're really dangerous weapons that can be used to kill people. 
Instead, buy an iPhone case that makes you healthier — well, maybe. 
(h/t Gizmodiva)