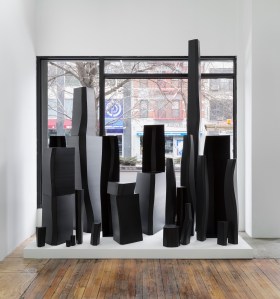 Some magicians intimidate their volunteers, commanding them to step onstage and dance. But Thomas Kovachevich uses a panoply of materials, many of which could be found in a hardware store or co-op basement, to create quiet spaces in which the line between performer and audience becomes irrelevant as he, the viewer, and the environment all play together. A show taking place in three galleries—Callicoon's handsome new space on Delancey Street, its soon-to-be-former space on Forsyth and Show Room in Brooklyn—feels hardly big enough for Mr. Kovachevich's wide-ranging embrace of mediums and tones.
Portrait of this Room (Black and White Triptych) consists of three 10-foot squares, each made of 28 vertical strips of white paper tape tacked to the wall with dressmaker pins. A narrower strip of black ribbon runs down the center of each. This much is enough to give any Minimalist monument or Tuscan cathedral a run for its money, but the piece can take on Land Art or a Zen garden, too, because the edges of the paper tape, as the humidity in the room naturally waxes and wanes, responsively flatten or curl, sometimes enough to completely hide the ribbon.
The 5-foot-square acrylic Id shows a samurai-shaped storm of bright colors apparently emerging from the void but really surrounded by it. And Solid Geometry, an installation of 35 sculptures made of black corrugated plastic, is a small city of friendly shadows. Quick, gestural lines are first drawn and then scored down sheets of the plastic, which is then folded and fitted with triangular or trapezoidal tops and bottoms to make idiosyncratic hollow monoliths. Set in the picture window, the components face both ways—either toward the back wall or toward the street—to make a kind of squared doubleness. Either the gallery's no better than the street or the pieces have no fronts or backs or what's relatively true is true, relatively.
(Through March 30, 2014)