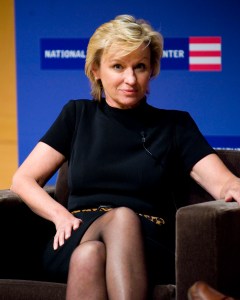 Tina Brown announced that she was leaving the Daily Beast back in September to devote herself to what she termed "theatrical journalism." With her first major event in the offing, the Women in the World Summit, we circled back  to find out what exactly she meant by that coinage.
Although this is the gathering's fifth year, it's the first year that Ms. Brown isn't also in charge of the Daily Beast/Newsweek at the same time.
But according to Ms. Brown, this confab of women leaders like Hillary Clinton, Pussy Riot, Kirsten Gillibrand and Sarah Silverman (and her rabbi sister, Susan) is not actually a conference—it's "live news."
"The more we are attached to our screens, the more we like to go out. It's a paradox," Ms. Brown told Off the Record. "The more we are obsessed with our digital, the more actually going to a live event that might take 20 minutes instead of one and a half is in fact exciting and energizing and new—and particularly when it's live news, which is what we are doing."
Unlike, say, a conference that is booked nine months in advance, Ms. Brown's World Summit is, according to her, "very much a news-breaking event." The day we spoke to Ms. Brown, Jon Stewart had just signed on to moderate a discussion of the role of women in the Arab Spring. (See? Breaking news.)
"We are really creating a live news show, actually, which happens to be all about seeing the world through the eyes of women," explained Ms. Brown, adding that she spends the whole year engaged in the "long journalistic process" of choosing the women who will appear on panels throughout the three-day conference.
"Every year, a theme emerges, and the show gets a feel," Ms. Brown said, likening it to putting together a magazine. Indeed, Ms. Brown puts a lot of emphasis on the "journalism" part of "theatrical journalism." "This year, it's really about how women are the peacemakers in our society, the problem solvers."
Maybe they can solve the problem of making nontheatrical journalism pay.