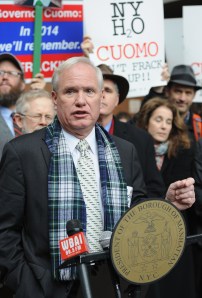 The Independent Democratic Conference has been very good to Tony Avella's office.
Several of the Queens state senator's staffers received plum pay raises after he infuriated Democrats by joining the breakaway faction that runs the Senate in tandem with state Republicans, an analysis of state payroll records shows.
Among the biggest winners was Dawa Jung, an attorney who was promoted from deputy legislative counsel to counsel to the senate's social services committee after Mr. Avella's jump to the IDC last month. Her biweekly pay surged from $1,884 in late January–when, for unexplained reasons, she last appeared on Mr. Avella's payroll–to $2,692 in the most recent pay period, the records show. Prorated, that's a raise from about $49,000 to $70,000.
Others also benefited: Seth Urbinder, Mr. Avella's chief of staff, saw his salary bumped by $4,000, Anna Aulvola, his deputy chief of staff, received a $2,000 raise, and Heather Sager, a district representative, will be taking home an extra $5,000 thanks to the move, the records show. A $30,000-a-year district representative also joined Mr. Avella's office after he left the Democratic conference.
A larger budget was just one of the perks showered on Mr. Avella after he joined the IDC last month, growing its ranks to five. He was immediately named chair of the social services committee and was later assigned to a host of other committees on which he had previously not served. Ms. Jung's jump in biweekly salary appears directly tied to Mr. Avella's new chairman role.
An IDC spokesman, however, framed the staff raises as relatively modest and said they were well-deserved.
"Senator Avella has some of the hardest working staffers in government. These salary adjustments are commensurate with their increased responsibilities, longtime service, and commitment to serving the people of Queens," said the spokesman, Jason Elan. "Since becoming chair of the senate social services committee, Senator Avella has hired only one additional staffer to handle the committee's workload. Other staff members received salary adjustments from existing office budget allocations."