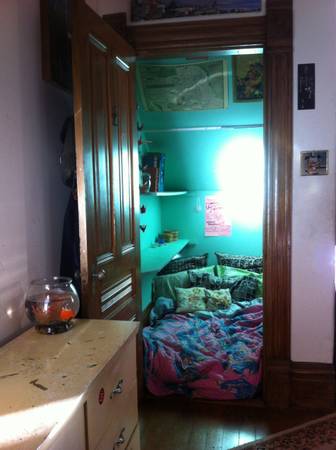 Oh, the irony.
The author of Worst Room, a blog devoted to showcasing the worst rooms of Craigslist, is reaching out to followers for help.
We guess the picky blogger got his comeuppance, as he posted the following cry for help on the site earlier today:
Dear EVERYONE,

It comes with great sadness and frustration that I have to announce that I am back on the hunt for new place to call home in New York. Yes, me, the creator of this blog.

For the past 10 months I was living in what I thought to be the place where I would settle into for many years to come. I live in a spacious room, I have great roommates who I care for deeply and the location couldn't be more ideal for me. Alas, the universe has thrown me under the bus again. One of my roommates is PREGNANT, and they have asked me to move out so they can take over my bedroom to use for the child. FML.

I'm convinced that I may have the worst luck when it comes to finding a place I can really settle into. It seems like just as I am growing roots in the ground, I am ripped out by forces outside of my own control.

I created this blog last spring, when I found myself desperately trying to find decent, affordable housing in New York. Like most of you, I don't want to live in a CLOSET, I don't want to subsidize your rent by sleeping in a TENT IN YOUR BASEMENT, and I most certainly don't want to sleep on your SLIGHTLY USED FUTON.

Anyways, I'm reaching out to my loyal followers, many of whom understand my pain and frustration, for help. I will be back in my car if I don't find a new apartment by MAY 1st.

If you have a room opening up in your place, know of someone moving out of an apartment, a good lead, anything really, PLEASE EMAIL ME @theworstroom@gmail.com.

I am a positive, considerate person, a cinematographer and filmmaker, record collector, POPULAR BLOGGER, avid cyclist, gardener, composter, homebrewer, environmentally conscious, southerner, originally from Kentucky, and I'm looking for a real, relaxing, home environment. Someplace that is comfortable. Open spaces, maybe a front porch, a yard, a place to drink iced tea on a hot afternoon.

Am I dreaming?
Maybe the heartbroken guy with the cats is still looking for a roommate?  Actually, it's probably safe to say he is.