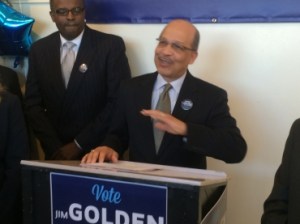 TRENTON – Trenton mayoral candidate Jim Golden has publicly called on rival candidate Eric Jackson to account for approximately $24,000 in campaign contributions allegedly missing from his unsuccessful 2010 mayoral campaign.
In a March 18 entry by local journalist and activist Kevin Moriarty on his blog, And Another Thing, cited by the Golden campaign in a written statement on Monday, Moriarty questions the fate of campaign funds stemming from Jackson's previous mayoral campaign four years ago.
"Mr. Jackson had a balance of $23,770.94 in his account. He has never filed a report, as required by law, to disclose what he did with that money after the 2010 election was over," Moriarty writes. "As far as NJ ELEC and state campaign finance law is concerned, the fate of that $23,770.94 – plus any additional 2010 campaign donations and expenses since April 30, 2010 – is unknown and way overdue to be reported."
Golden, Trenton's former Police Director, has previously asserted that Jackson is guilty of campaign violations, including recent reports of allegedly improper donations from law firm McManimon, Scotland & Baumann, the city's bond counsel. Following complaints from Golden and other political opponents, Jackson said the money was returned in part to ensure that the firm could continue to do business with the city.
"This is a blatant violation of the law and is completely unacceptable," said Golden in a written statement. "Mr. Jackson's rhetoric and reality on transparency and accountability are two completely different stories. The voters of Trenton deserve to know the truth."
Phone calls to Jackson seeking comment were not immediately returned.