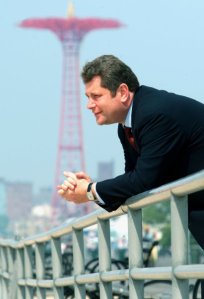 Two Republicans have emerged to challenge Brooklyn Assemblyman Alec Brook-Krasny. 
Stamatis Lilikakis, a Bay Ridge business owner and political newcomer, and Marcus Aurelius Nussbaum, a Republican district leader, are planning to face off in a Republican primary that insiders are calling another stage of a Brooklyn GOP civil war. 
"I'm running for this seat because one, I grew up in the area and know the problems, and as a small business owner I feel the burden, the tax system and regulations, that are created for businesses," Mr. Lilikakis told the Observer. "We need to create more jobs in the community."
Mr. Lilikakis, an importer of outerwear, also fumed about the corruption and sexual harassment scandals that have embroiled state lawmakers in recent years and said he would be someone who could rectify Albany's perceived deficiencies. "I have a daughter and if she wanted to intern up in Albany, I'd be concerned about that," he said. 
Mr. Nussbaum, who was not immediately available for comment, announced his candidacy last week. An attorney and army veteran, Mr. Nussabaum said in a statement that he was running to improve the district's quality-of-life and revive the Republican brand.
"I believe that it is my duty to use my abilities to help those who cannot help themselves, and it is my goal to make tangible improvements in the quality of life for the members of our community," Mr. Nussbaum said. "My election to the New York State Assembly will also be a catalyst for the revival of our beleaguered but beloved Republican Party, especially in Brooklyn."
In addition to a challenge against Mr. Brook-Krasny, the face-off, Brooklyn sources say, represents a growing rift in Brooklyn Republican circles. Brooklyn GOP chair Craig Eaton is said to be supporting Mr. Nussbaum, while Republican State Senator Marty Golden, a power broker in Bay Ridge, is pushing Mr. Lilikakis. Mr. Golden recently tried–and failed–to oust Mr. Eaton from his leadership position. 
While the assembly district, spanning portions of Bay Ridge, Coney Island and Brighton Beach, includes more conservatives than typical deep blue districts in the city, any Republican challenger will face an uphill battle against Mr. Brook-Krasny. The assemblyman easily defeated a Republican challenger in 2012, even after heavily Democratic precincts in Coney Island were ravaged by Hurricane Sandy. 
Update (4:40 p.m.): Kate Cucco, Mr. Brook-Krasny's chief of staff, said the assemblyman was focusing on the budget season and not thinking about electoral politics yet.
"He respects the Democratic process. Everyone has a right to run," she said. "He's really focused on the budget right now."