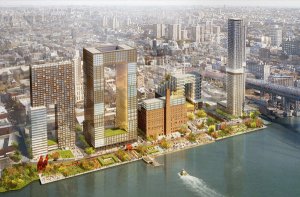 Mayor Bill de Blasio has prevailed in his bid to wring more affordable housing from Two Trees' redevelopment of the Domino Sugar site on the Williamsburg waterfront, with the developer agreeing to add 40 more units—an additional 110,000 square feet—of affordable housing to the project. Of the project's 2,200 units, 700 will now be affordable, or roughly 31.8 percent.
The move, which was seen as an aggressive gambit on the part of the de Blasio administration, sets a favorable tone for the mayor's ambitious goal of building or preserving 200,000 units of affordable housing. It also signals that Mr. de Blasio's top housing chiefs—deputy mayor Alicia Glen and city planning chair Carl Weisbrod—will push for similarly big affordable housing concessions from other developers.
The victory for the administration is further notable in that the Two Trees project already included more affordable housing—660 units out of 2,300 units total—than the 440 it was required to build. Furthermore, developer Jed Walentas purchased the site with an approved plan by Rafael Viñoly that included less affordable housing units, but opted to jettison it for one designed by SHoP that included more open space and affordable housing units—offering Mr. Walentas an out, if an unpopular one, in which he could move forward with the Viñoly plan. Indeed, Mr. Walentas threatened to revert to the Viñoly plan after meeting with Mr. Weisbrod and Ms. Glen last week in advance of the scheduled City Planning vote scheduled for this Wednesday.
"We set out from Day One to get the best possible value for the public. This partnership delivers on that commitment," said Ms. Glen in a statement about the agreement. "We are securing more of the affordable housing families in Williamsburg need, and we are doing it by working together. This agreement is a win for all sides, and it shows that we can ensure the public's needs are met, while also being responsive to the private sector's objectives."
Last week, Mr. Walentas called the administration's demands "not workable," telling The New York Times that he'd "very much like to work this out with them, but what they're currently asking for is not workable."
However, in exchange for building taller towers, Two Trees has acceded to nearly all of the administration's demands, agreeing to add 20 fewer units than the administration had asked for—40 rather than 60—but more than double the amount of square footage that had been requested—110,000 square feet rather than 50,000, for a total of 537,000 square feet of affordable housing. (By square foot, roughly 18.3 percent of the 2.9 million-square foot development, which also includes commercial, tech and incubator spaces, will now be dedicated to affordable housing.)
City officials had reportedly been far more concerned with increasing square footage than units, given the widespread shortage of affordable two- and three-bedroom units that can accommodate families, rather than studios and one-bedrooms, which many developers favor. According to the city, the 700 affordable apartments will include "a significant number of units sized for families," will cover a range of incomes and will be integrated throughout the complex. They will also be permanently affordable. The project also includes open space and public access to the waterfront.
Mr. Walentas, meanwhile, issued a statement touting the agreement, having apparently concluded that the $1.5 billion project still had the potential to reap significant economic reward, even with the burden of additional affordable housing. (Which, on the part of the developer, is quite a big vote of confidence in Williamsburg's waterfront condo market.)
"We are so proud and pleased with what we've accomplished here. This won't just be an ordinary development—it will be part of an integrated neighborhood that brings people of every income level together," Mr. Walentas wrote. "We hope this can become a model for what we can all achieve together in the years ahead."
Construction on the first building is scheduled to begin in December 2014.