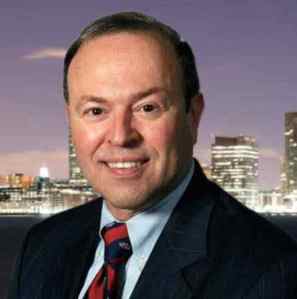 Republican U.S. Senate candidate Murray Sabrin today landed the support of those legislators serving what is generally regarded as the state's most conservative region: Warren and Sussex counties, starting with state Sen. Mike Doherty (R-23).
"Murray Sabrin's foreign policy views are very similar to mine," Doherty said. "Sure, we need a strong defense, but we don't need to meddle in every scuffle that crops up around the globe. We've got enough to do here at home that isn't getting done, so it makes no sense to get involved in conflicts half-way around the world – let Europe clean up Europe.
"In addition, Murray Sabrin knows the free-enterprise system," added the senator, a West Point graduate and patent attorney with a D.C.-based practice. "He knows how a dollar is made, and he knows how that same dollar can be wasted or destroyed through crony-capitalism and the manipulative Federal Reserve policies we see daily in Washington, D.C.," he said. "This needs to stop, and Murray is the man who has what it takes to get the job done."
Sabrin (pictured) is trying to land the Republican nomination in the June Primary and is competing against a field of challengers that includes former U.S. Senate candidate Jeff Bell.
Bell has the support of Sabrin's old conservative nemesis: former Bogota Mayor Steve Lonegan, who's running in CD3.
Doherty counts both Lonegan and Sabrin as allies.
"I couldn't be happier to have Mike Doherty with us," said Sabrin. "On issues like foreign and defense policy and job creation, he and I are kindred spirits. We know what works in both, and we've seen the folly of policies that don't work."
State Sen. Steve Oroho, Assemblywoman Alison Littell McHose and Assemblyman Parker Space – all Republicans from the 24th District – also jointly voiced their support for the Ramapo finance professor's campaign.
"I couldn't be more pleased and proud to receive the endorsements of these three outstanding New Jersey leaders," said Sabrin. "Steve Oroho, Alison McHose and Parker Space struggle all day every day in Trenton to keep taxes and government spending low, limit the overreach of government and advance the cause of freedom in New Jersey."
In a statement, the three legislators wrote:
"Murray Sabrin's decades-long commitment to limited government, individual liberty and independence and personal responsibility place him head and shoulders above his primary opponents. With his in-depth knowledge of finance and economics, he alone among the GOP contenders for the Senate nomination grasps the issues facing New Jersey and the nation. No one is better prepared to represent New Jersey in Washington, D.C. and debate the issues of spending, taxes, the budget, the National Debt and individual freedom and liberty than Murray Sabrin."