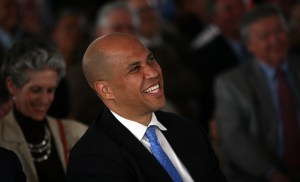 TRENTON – The deadline is approaching.
GOP candidates hoping to challenge incumbent U.S. Sen. Cory Booker (D-NJ) in 2014 have three weeks to file their paperwork, and if a competitive race is looming it's not yet apparent when such a campaign will kick into gear.
In December, one of the last Republican Party hopefuls to unsuccessfully run for the seat noted if candidates wanted to gain serious traction, they should have already been in full campaign mode (the GOP official noted he raised more than $1 million by that time during his U.S. Senate run).
The next month, PolitickerNJ highlighted the ticking clock for GOP hopefuls despite the handful of advantages a candidate would have in the upcoming election if they are to raise significant capital.
Now, it's March. The filing deadline is March 31. And the clock continues to tick.
Here's a look at the race for the Republican Party:
The latest hopeful who generated significant buzz among county GOP officials opted not to make a run. Chris Isola, a former Marine who originally was fighting for a chance to represent voters in CD 3, impressed Republican leadership with his personal story and his ability to raise some campaign dollars (sources told PolitickerNJ he had raised a couple hundred thousand for his congressional campaign).
In the end, sources say, Isola's financial backers realized an eleventh hour statewide run was too much of a mountain to climb.
Enter, the candidates:
– Ramapo College finance Professor Murray Sabrin.
– Former FBI agent Rob Turkavage
– West Orange businessman Brian Goldberg
– Army veteran and Freehold businessman Rich Pezzullo
– 1978 U.S. Senate contender Jeff Bell
Sabrin, who arguably has the highest name ID out of the five contenders, has the best chance among the pool of GOP hopefuls to challenge Booker, according to a poll released earlier this month.
But that's not saying much.
According to the Monmouth University/Asbury Park Press Poll, nearly 6-in-10 (58 percent) registered voters said they would support Booker compared to just 25 percent who would vote for Sabrin. (A majority of Garden State voters, 55 percent, support sending Booker back to Washington for a full term, according to the poll.)
Locally, Goldberg received the support of the Essex County Republican Party and Pezzullo has the support of the Union County GOP.