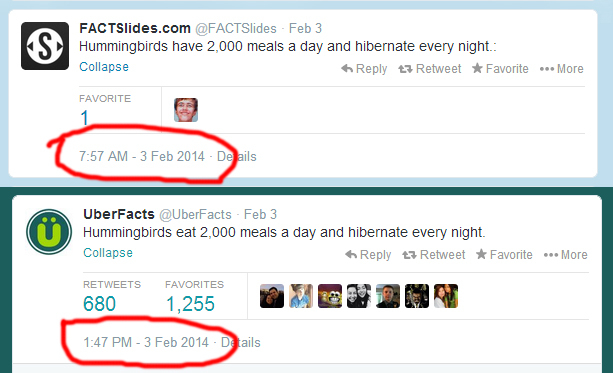 Amid allegations that the @Uberfacts Twitter account posts fraudulent "facts," rival account @FACTSlides has accused the @Uberfacts creator of stealing his tweets word for word. Who knew the world of fun facts was so fraught.
FACTSlides founder Luke Reiner recently told Betabeat that Kris Sanchez, the creator of @Uberfacts, was repeatedly stealing his work and passing it off as his own. Mr. Sanchez, on the other hand, says facts are not property.
FACTSlides is a slideshow-like website that presents facts along with links to their sources. It has a corresponding Twitter account, @FACTSlides. The competing @Uberfacts is a Twitter account that posts facts but has no corresponding website — and has 6.3 million followers to @FACTSlides's 1,000.

The FACTSlides founder does "a lot of work" on each fact, he said via email, including research, design and links. Each fact is posted on the website as well as tweeted. He noticed recently that @Uberfacts was copying his content.
"He didn't even changed [sic] the order of the facts," Mr. Reiner wrote in an email, "and they were copied word by word. And of course, there's no attribution, source link, nothing."
Says Mr. Reiner:
"I wrote him, the owner, @KrisSanchez about it. He denied knowing the site at first. When confronted with screenshots, he said 'facts are facts', and that 'the only copyrighted thing is how is written'. I said: 'Exactly', and reminded him how he was copying every single fact from our site word by word."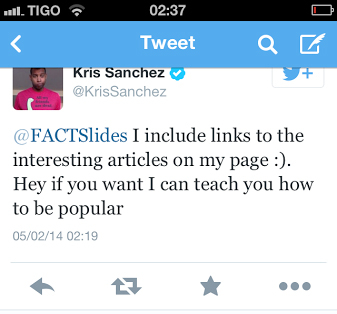 He asked Mr. Sanchez to stop copying the facts, he said. Mr. Sanchez "started copying our facts even more frequently, but now changing a few words here or there," he said.
Mr. Sanchez maintains he isn't doing anything wrong. He told Betabeat that he gathers his facts from a variety of sources, and that there's nothing wrong with copying other organizations' work.
"I don't think lifting facts from other sites/ word for word/ [sic] or changed slightly is immoral or unethical because knowledge isn't something one person should own," Mr. Sanchez said in an email. "When it happens to me, I'm proud that whoever used the fact and myself shared a common interest."
To find the information he posts on @Uberfacts, Mr. Sanchez sets up Google alerts and spends hours on the Internet, he said in an email. He started it one day when he was bored in college in 2009. He makes money from sponsored tweets on occasion.
"Finding these random bits of information has always been fun for me," he said. "I loved Snapple Facts and everything of the sort."
He had never heard of the FACTSlides account until Mr. Reiner started tweeting at his account a month and a half ago, Mr. Sanchez said.
"It's not uncommon for other accounts, websites, etc. to start drama just to get a bit of publicity," he added.
We presented Mr. Sanchez with the bit of ocular proof presented above, provided by Mr. Reiner. It shows a tweet posted by @FACTSlides in the morning and copied verbatim by @Uberfacts later in the afternoon: "Hummingbirds have 2,000 meals a day and hibernate every night."
"That happens when we get our facts from the same source," Mr. Sanchez replied. We asked him what the source was and he said he couldn't remember.
He also told Betabeat in an earlier email: "I've seen a bunch of Twitter accounts/websites/blogs take posts from my page, typos and everything and use them on theirs. Honestly, it doesn't upset me because these facts are not creative works. There's nothing that I've created on that Twitter account that hasn't been found somewhere else."