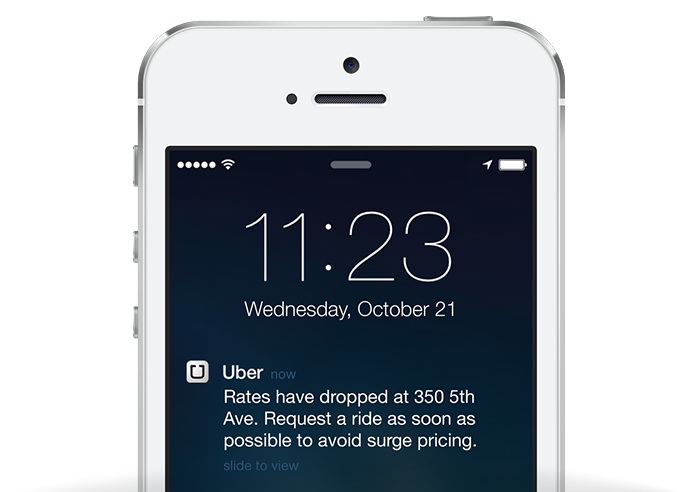 Uber's controversial surge-pricing tactics look like they're here to stay. But now, at least, the on-demand taxi startup will start notifying users when surge rates are about to end.
The new feature comes amid allegations that Uber has kept drivers off the road to increase the likelihood of surge pricing. We asked a rep from Uber if this motivated the change, and he said no, adding that CEO Travis Kalanick mentioned that a new feature was coming at the Launch Festival in San Francisco the day before the controversial surge pricing story broke (which doesn't mean much — Uber could have known the story was coming).
The Surge Drop feature will let users know if surge pricing at their location might end within 30 minutes, and will roll out globally to iPhone users this week, according to Uber's blog post.
We asked Uber's spox what would happen if everyone just started waiting for prices to drop instead of using cars while surge pricing is in effect, and he said:
"Surge pricing helps get more cars on the road quickly when demand outstrips supply, helping to guarantee people can get a ride when and where they want. Users are notified of – and must acknowledge – the elevated pricing within the app before they can request a car. As soon as demand falls or supply increases sufficiently, prices return to normal. Now, users will be able to receive a push notification within 30 minutes of surge pricing ending in their location. "
So, maybe widespread use of Surge Drop would cause demand to fall and prices to return to normal? Is it possible that if enough people order cars using Surge Drop, a new surge pricing period could begin? We've asked Uber and will update when they respond.