The thing about the renovation is that it went, more or less, perfectly.
"We agreed on a house, a contractor, everything inside the apartment," said S. "It was an enormous project—we broke walls, we built walls—it took about a year."
The apartment, a gracious eight-room spread in a very established Upper East Side co-op, was decidedly not a starter home; it was the kind of place that you buy when you finally have the financial wherewithal to get what you really want. Though it was the first that S. (who asked that her name not be used in this story) and her husband had owned after three children and 15 years of marriage.
"Though it needed a extensive renovation, we both liked doing that sort of thing," said S. "It actually turned out to be a lot of fun. I'm not saying everything in our life was smooth, but everything that had to do with the apartment was smooth."
The couple moved in and threw a number of dinner parties—elaborate, homemade meals of soufflé and salmon mousse served by candlelight in the white-walled dining room overlooking Park Avenue. Like the rest of the apartment, its antique furniture—an 18th-century English gate-legged oval table, 18th-century French chairs, a red and dark blue Bokhara rug—contrasted beautifully with the modern art hanging on the walls. The couple basked in the admiration of family and friends, who "ooh"-ed and "aah"-ed over how well put together and warm it all was. Then, when the last painting had been hung and the renovation had undeniably come to an end, they agreed to get a divorce.
"Once the project was done, the reality set in," said S. "We were living a dream through this little exercise, but it wasn't enough to rebuild all that was lost in the marriage—a real connection and a real understanding of each other."
Looking back, after the thousands (or millions) have been spent, and the vague misgivings turned to regrets, after the endless conversations about floor plans and furnishings have shifted to ones about who will leave and who will stay, it often seems painfully obvious—the fact that what one has been building is not a dream home but an expensive memorial to a marriage that did not, in the end, pan out. In the muddled reality of the moment, of course, the shape of things is never so clear.
That the construction of a dream home should present itself as a palliative to marital malaise is not so surprising. For a couple who have achieved a significant measure of financial success, the perfect home would seem to complete the trifecta of the American dream and offer, besides, the illusion of stability in what has come to seem a fragile union. But major home renovations tend to reveal, rather than repair, the ruptures in a relationship, magnifying not only the weaknesses but also the strengths, which, as in the case of S. and her husband, can turn out to be just as unsettling. And even a home built in happy times can feel like a rebuke when a marriage starts to falter.
New York City is littered with properties who owe their existence, or at least their current configurations, to a relationship that has since fizzled—troubled real estate that, as contractors, lawyers, brokers, architects, appraisers and decorators can attest, becomes the embodiment of a failed relationship, a place where the psychological battles of a disintegrating marriage are played out in physical form. Of course, in New York, where real estate is arguably what makes the city's cold heart beat hardest, the dream homes at the center of so many divorce disputes are not only sentimental artifacts but also multimillion-dollar pawns.
***
"Renovations cause more stress on a marriage than having a newborn child; that's what I've come to believe," remarked Brown Harris Stevens mega broker Paula del Nunzio. Though renovations have been known to rekindle at least a superficial bond between some couples, they are renowned for stoking animosity in even the happiest of pairs—a phenomenon that the city's top brokers are more than familiar with, as they are frequently tapped to sell the love(lorn) nests.
(Among the former listings that Ms. del Nunzio refused to discuss was 16 West 12th Street—the five-story townhouse that Lucas and Julie Janklow bought for $4.5 million in 2004, undertaking an extensive multiyear renovation that reaped $15.3 million for the literary agent and restaurateur to fight over when they split in 2010. The house, though impeccable, did not suggest a couple comfortable with the messiness that family life often entails—one long-ago party guest recalled being forced to wear hospital booties over her shoes to protect the white marble floors.)
Want of money, convenient bludgeon in spousal screaming matches that it may be, is generally not the real problem for most New Yorkers undertaking a major renovation, which requires not only the cash to buy in the city but enough left over to rip it apart and fashion something better suited to one's own taste. In fact, having a lot of money often makes the entire process more contentious, leading to a never-ending project that is rarely embraced with equal passion by both parties.
"As you move up in price, there is a high probability that a renovation was either very recently completed or is about to be completed. And usually they own a second home," appraiser turned data guru Jonathan Miller told the Observer, estimating that roughly half the residential appraisals that he does involve divorce. "It just seems to be the straw that broke the camel's back."
Marley Oakes, a New York-based clinical psychologist, said any connection is likely not a coincidence. "In a last-ditch effort to convince themselves that a marriage is viable, people often move forward on a big plan, said Dr. Oakes. "But when people envision their dream marriage and their dream home, they don't envision all the mundane details, and in the renovation process, many of them realize that they don't want to be so intertwined with that person."
"Obviously, people take marriage vows," she hastened to add. "But a renovation is a different level of commitment; it isn't just located in the words."
"Usually, it's obvious to everyone involved when something is not right. You pick up on this strange tension," said Nicholas S.G. Stern, a contractor known for his renovations of Manhattan trophy properties. "I had one project five years ago where even the guys in the field were talking about it, though, as it turns out, the couple is still together, so you never know."
Many architects and decorators avoid obviously fraught situations, but some see an upside. "I guarantee there are some architects and decorators who are designing the husband's love pad and the family home at the same time," Mr. Stern said.
"I recently ran into another contractor who said, 'Did you know so-and-so got divorced recently? She kept the apartment in New York; he kept the house in Washington and the place in Palm Beach. She's keeping Nantucket. And I kept all the relationships, so I'm doing projects for both of them!' Mr. Stern recalled. "He was very smug about it. He had something like four projects for two people."
In unhappy renovations, homeowners sometimes end up feeling much closer to the people remodeling their homes than to their spouses. A woman who asked only to be identified by her last initial, B., said that after her husband refused to participate in the renovation of their six-bedroom brownstone in South Slope, her handyman became "a surrogate."
"I would call him when anything went wrong with the house," she recalled.
"I remember asking my husband before we bought the brownstone. I said, 'I need to know you're in for it, because it's going to be a big project. It's not going to be your kind of thing.' And he said, 'Yes, I'm in.' But then he wasn't," said B. "Eventually, I just outsourced. There were so many decisions to make—if I should paint the kitchen blue, how to do the tiles, if the cabinets should be one color or two—and I couldn't get any help from my husband. I just felt paralyzed. So I went on Craigslist and found a decorator who came over the next day. These perfect strangers were helping me, but my own husband wouldn't."
She remembers, in particular, a disagreement about the dining room table.
"We had a very formal, big dining room, and I wanted a big dining room table. I wanted him to go shopping with me, and I kept asking him, and he was like, 'Just order the fucking table, what's the big deal?' And I couldn't explain to him that it wasn't about a piece of furniture; it was about families and dinner and coming home at night. Eventually, I just went with a friend to pick it out. I remember crying about it; we had so many fights about that table."
B. and her husband stayed married for another two-and-a-half years after the renovation, but it continued to be a source of conflict. They recently sold the brownstone, which they rented out for several years after divorcing. At the closing, B.'s husband told her that he thought they would still be married if it hadn't been for the house. She doesn't believe him, but she thinks their marriage probably would have lasted a few more years than it did. The house made her realize that it was better to be alone than lonely in a marriage.
"I ended up hating that house; it was like a dream that ended up getting corrupted. And he loved it, actually. For him, it was just a beautiful possession."
***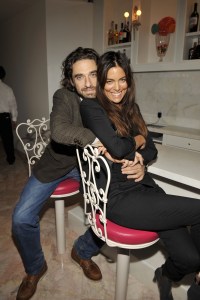 If building a house of dreams is hard, then selling a house of broken ones is harder.
"People spend a lot of money in creating the perfect home because, of course, like most people, even people who do prenups, they don't live their marriage as if they're going to get a divorce," said Bernard Clair, a divorce attorney who has represented the likes of Jocelyn Wildenstein and Steven Soderbergh. "When people do get divorced, it's not only surprising that your spouse has been sleeping with your best friend. The surprise is also what is happening with the assets, homes that people thought were so valuable because they were made to measure."
Relationships on the rocks have a tendency to produce properties that don't recoup their investments. A renovation done correctly, especially a combination of two or more New York apartments, can produce a very nice profit, according to Mr. Miller, but unfortunately, the collaborations of feuding or increasingly distant couples often fail to live up to expectations.
"They tend to be of high quality and well done, but in many cases, they're excessive—too much detail, too many built-ins, super high-tech entertainment systems and lighting, antique doorknobs on every closet and door cabinet. It just strikes you as a bit over-the-top, overkill—not crazy, like Ming vases built into the wall, but when we ask what they spent, it's always at the high-end of the range for the size of the apartment," said Mr. Miller. "It strikes me as a disconnect or throwing money at the problem; the other couples, they're looking at it as a long-term investment, they're a team and picking it out together, as opposed to someone writing the checks and the other can spend whatever they want."
And of course, some couples do build Ming vases into the walls or at least their aesthetic equivalent: gold leaf in the kitchen and Louis XIV paneling so abundant that it is no longer just a decoration but part of the home's structure.
Many times, it's a case of the older man handing his third wife the checkbook, but couples who are in love can be the worst of all, feeding off one another's affirmation as they make one terrible decision after another, only to find when their marriage crumbles that no one else finds their love-crazed designs very appealing.
"If people think that selling a home that has been custom-built for them—these kinds of unique, only-for-us types of residences—is difficult when they're together, then triple the difficulty when they're selling it pursuant to a divorce or a divorce agreement," said Mr. Clair, recalling one Manhattan couple who spent millions of dollars and a year and a half of permit wrangling to install an indoor pool in the basement surrounded on three sides by aquariums.
"They had fish—real fish!—on three sides, though forgive me, I don't know if they were salt or fresh water," he said. "When they decided to get divorced, no one would make an offer on the townhouse. Maintaining that pool would take three staff people. It took years to unload the townhouse, and even when I pass it now, I can't help but wonder who lives there and what they did with the pool."
Even if the apartment is beautiful, buyers are spooked by divorce, according to Corcoran broker Wendy Sarasohn, who said that it can be easier to sell an apartment touched by death, provided it was from natural causes, than divorce.
"People are superstitious; they think that with the walls and the bricks comes the karma of the family and that if it's a divorce, then the unhappiness will trade as well."
Some people don't even try to hide their dysfunction—Ms. Sarasohn tried to sell an under-renovation apartment where the wife, who had lived in the apartment with her first two husbands, had taken over the bedroom and was "ensconced in the bed, and the bed was all floral, and there were magazines and clothes all strewn about. His clothes weren't even in the closet." The husband had his bedroom, with an incredibly high-tech sound system, down the hall.
Others are expert in the art of subterfuge. Ms. Sarasohn remembered showing clients one apartment that seemed to belong to the perfect family—framed artwork by the children in the kitchen, hockey sticks and skis all lined up perfectly in the closet, a piano with Christmas cards from other perfect families. A few weeks later, she met the owner of the perfect apartment, who was getting a divorce.
But camouflaging an unhappy home can be exceedingly difficult, even for those with meticulous attention to detail. "I had a listing once. I didn't even know there had been a divorce; it was just a woman selling it," Ms. Sarasohn said. "People would walk in, they'd love the apartment, then they would walk into the master bedroom, and suddenly they didn't want the apartment anymore. After it happened several times, I had an energy cleaner come in. The next day, somebody came in and decided they wanted the apartment in the master bedroom."
It's also not uncommon for couples to sabotage the sale of an apartment, either to get back at a spouse or because they just don't want to leave.
"I've shown $20 million apartments where one of the spouses has stripped all the light fixtures and doorknobs off out of spite," said Ms. Sarasohn. "Or you'll have this magnificent room with venetian plaster walls, and then on the floor, there's a sleeping bag where someone's camping out."
"People fight over it like it has a heart, like it's an extension of themselves," said psychologist Dana Greco.
This is not altogether surprising. "It's not only a house; it represents the dream of a life. It's a family, it's a future," said Jennifer Safian, a Manhattan divorce mediator. "I don't want to say white picket fences, because we don't have those in New York, but it's the beautiful forever after. And it's very disappointing to realize that you didn't succeed at your marriage."
The expression of this disappointment, however, often takes forms that are far from poetic.
Attorney Nancy Chemtob, who has shepherded billionaires and celebrities through divorces, has witnessed all manner of destruction visited upon dream homes by disillusioned spouses.
"I've seen interior locks, paint poured inside of an expensive piano, people refusing to fill a pool or do the landscaping, cutting off Internet and cable. One woman glued all the cabinets shut in their summer home. I have people who leave really passive aggressive books beside their spouse's nightstand, like The Art of War.
Worst of all, she said, is when neither party agrees to cede the house and the couple must cohabitate for the duration of the divorce, which can take up to three years. (In New York state, the only way to force a soon-to-be-former spouse from the home is via a domestic violence complaint.) Recently, one of her clients removed most of the furniture from the house that she still shared with her husband.
"She sent it to storage just to be punitive. You see a lot of that: 'You can't sit on this chair; it was my chair before the marriage,'" she said. "Though no one has burned down a house yet!" she added reassuringly.
"The house is a real ground for power dynamics to play out—either trying to get unmet needs satisfied through some kind of compensation or even just using the house to stay connected to the other person," said Dr. Oakes.
***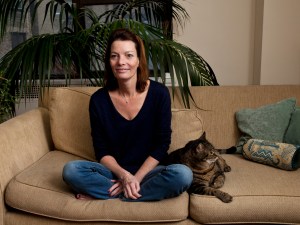 Despite the difficulties, some couples continue to share their home indefinitely after divorce.
Whitney Schofield, a preschool teacher, lives in a one-bedroom on East 73rd that was to be appended to the three-bedroom co-op she and her husband, who asked not to be identified, once shared. When we met with Ms. Schofield in the apartment, she admitted that the arrangement is less than ideal, but she wanted to be close to their 11-year-old son and 9-year-old daughter, who live one floor below, in the family home.
Besides, she said, though she and husband were technically building a home together—they combined the one-bedroom he owned with two studios on either side and had plans to create a duplex with three apartments above—it never really felt like her project.
"It was his brainchild; he wanted his own little fiefdom," said Ms. Schofield. "I thought it was a great idea when we were first married, but almost immediately, I was annoyed with how he handled things. He was really good with the big picture, but he was really bad with the details. Like he had an electrician come in to put recessed lighting in the hall, to illuminate the artwork, but we hadn't hung any artwork, so it ended up in all the wrong places. Or he had the two studios wired for audio and video but never put the speakers up. Eleven years later, there are still wires hanging out of the walls, and doors don't close right because they weren't shaved properly."
"He would ask my opinion," she said. "But he would never listen to what I had to say."
Her ex-husband agreed that Ms. Schofield had failed to take much of an interest in the renovation. "I owned the real estate before I ever met her," he said. "As I needed more space, I was able to add on more bedrooms. If she had no interest, it's probably because it wasn't hers."
Had he ever considered adding Ms. Schofield to the deed?
"No, I'm kind of a traditionalist," he replied. "My parents had separate checking accounts their entire life, and maybe that's a very New England way to do things, but what's yours is yours. It was a rational investment that was conceived before the family arrived. Of course, you can't completely separate the home that you're living in with your family from other considerations.
"But I lived there and owned this real estate before I was married. Not to be unsentimental, but this happened backwards. It's very different from having a starter home and building it together. The emotional factor just wasn't the same."
He approached the divorce with the same cold distance, Ms. Schofield claimed, slowly moving their shared assets into trusts for the children and stocking the one-bedroom upstairs with items they had stored in Rhode Island, preparing for the divorce she did not realize was coming.
One day, the doorman called to say that a rug had been delivered. She asked them to bring it up to the one-bedroom, which she thought was empty. When she opened the door, she found "boxes from Crate & Barrel, glasses, a table, dishware, towels, a dish rack—everything you can imagine in a house. He had it all set up. I broke all the glasses, had a few stiff drinks, then called him to ask what was going on. He said, 'I'm done. Get a lawyer.'"
Psychologists and counselors say that few divorced couples can stand to live in the same space; attempts at co-habitation usually fail over petty disputes. Ms. Safian related one in which the husband was to live on the garden floor, with the wife and children upstairs and they would share the kitchen. But disagreements quickly broke out over the food and whether or not the ex-husband should be allowed to eat leftovers.
Nesting, another alternative where the divorced couple shuttles back and forth between the family home and a smaller apartment elsewhere, allowing the children to stay in one place, is usually short-lived, as well as a hard sell. "It all comes down to the sheets," said one psychologist. "They've consummated the marriage and conceived the kids, but they find it creepy to sleep in the bed in the alternate apartment."
***
For all that a dream home lost to divorce can be a symbol of a failed marriage—a bitter reminder of all the cracks, fissures, fights and fundamental incompatibilities—it can also be the opposite: proof that you were happy once, that love was a thing you had, as well as thing you lost.
Dan, a finance professional in his late 30s who asked that we not use his last name, is still proud of the co-op he gut-renovated with his then-wife, who now lives there with their two kids.
They found the apartment in 2003, the spring he graduated from business school. Located in a 1908 co-op on West 88th Street, it was, quite literally, a wreck.
"We would drive into the city on Sundays to look at apartments, and it was the last one we were supposed to see that day. It was late, and I told my wife, 'Just run up while I wait with the car; it's probably going to be in terrible condition."
"The apartment looked like it had never been renovated, like it dated back to when the building was a boarding house," Dan said. "It didn't really have cabinets or shelves in the kitchen, just a big porcelain sink. The radiators had leaked, so the floors around them were all rotted. In one of the rooms, the windows were covered up with paper and boards. The walls were lathe and plaster with horsehair."
They bought the apartment anyway. It was in a great neighborhood and comparatively cheap given the magnitude of the renovation that was needed, but most importantly, they were excited by the project. They liked the idea that their first home would be entirely of their own.
"We hadn't been looking for a big project, but it was so intriguing," Dan said. "When you buy an apartment that's finished, you're really paying for someone else's taste. Here, we could do anything we wanted."
The contractor was difficult to deal with and the renovation arduous, taking several months longer than expected, but the adversity made them feel like a team. They moved in on New Year's Eve, brushing their teeth in the shower, because none of the sinks worked, and hunkering down in the master bedroom while the construction workers carried out the last month and half of work needed to finish the space into a generously sized two-bedroom adorned by the kinds of graceful period details—wide moldings, transoms over the doors—that had been stripped away long ago.
"It was a great apartment," said Dan. "I have a picture, before the renovation, where you can see from the front of the apartment to the back—just this great expanse of space—we were very proud of what it became. It was a shared accomplishment; we couldn't have built it without our joint income, and we built it together."
"I have very fond memories of renovating the apartment," he went on, adding that its increased value had even made it easier for them to reach a divorce settlement. "I was happy to have lived there, and I was happy to have moved out when the relationship ruptured. At the end, neither of us really wanted to come home. It was just a place to live."
He paused. "It's not a good thing to get sentimental about real estate, especially in New York."