Earlier last week it was announced that Disney is acquiring Maker Studios for $500 million dollars. With over 5.5 billion video views a month Maker is the number one YouTube MCN (Multi-Channel Network—a term for the companies that represent YouTube channels and sell ads against them) for total monthly views as well as minutes per viewer. The acquisition will scale Disney's digital media business, capture youth consumers, and leverage untapped YouTube creator intellectual property. However, the deal is not without its risks.
DISNEY IS A MEDIA BUSINESS
At its core Disney is a media business, but one that's been relatively weak in digital, whereas Maker's foundation is that of digital media company—having over 5 billion monthly views on YouTube, as well as off YouTube entities such as blip.tv. The majority of Disney's revenue ($4.9 billion in 2013) comes from Disney's Media networks, which, in addition to Disney includes ABC and ESPN properties. Disney's traditional media arms (cable and broadcast) are massive, but have shown signs of decline. Disney Interactive has been floundering, having lost $87 million in 2013 and laid off 26% of its workforce earlier this month.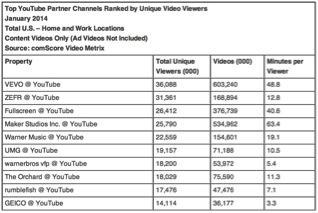 By bringing Maker under its wing, Disney Interactive will have additional inventory to help it scale. Assuming Disney's sales team can direct sell Maker's YouTube inventory they could kill two birds with one stone—increase digital sales revenue for Disney and increase the volume of inventory sold for Maker. This would effectively bring up CPM's for Maker's creators in a way that no MCN has succeeded in accomplishing to date.
Additionally, Disney's infrastructure and resources could presumably help expand Maker's off YouTube ambitions as well, and expand the amount of inventory Maker can generate on .com's adding one more revenue stream to their portfolio.
ITS ABOUT THE YOUTH MARKET
Disney's foundation as a company has been grounded in its ability to capture the mindshare of kids, a demographic which is increasingly spending their time online, and turning them into lifelong consumers as part of an unparalleled cradle to grave strategy. As I noted in a recent post YouTube is the platform of choice for younger audiences.
By acquiring Maker, Disney will capitalize on a direct digital connection with youth across the globe, complimenting their broadcast mediums nicely. Furthermore, the move would allow for vertical integration and more control for Disney. Disney could produce, advertise, and sell any number of its products whether that be merchandise, movies, or even DisneyLand tickets through Maker's network.
INTELLECTUAL PROPERTY
It's been reported that before Disney purchased Lucasfilm last year, Disney's CEO Bob Iger sat down to watch all six original Star Wars films to catalog the characters and be sure that "Lucasfilm had a stockpile of similarly rich material—aka intellectual property—for more Star Wars installments." As it turns out, LucasFilm already maintained a database which included "17,000 characters in the Star Wars universe inhabiting several thousand planets over a span of more than 20,000 years." The sheer volume of characters and intellectual property to monetize helped convince Iger the Lucasfilm acquisition made sense.
While Maker Studios is no LucasFilm, its easy to draw parallels between the 17,000 characters within the Star Wars universe and the tens of thousands of YouTube creators under the Maker's network. Each is a potential character to be licensed, packaged, and sold as merchandise or media. With the built-in audiences YouTube creators have, the steps it takes to promote and sell product has collapsed as creators can go direct to their consumers.
With Disney's TV and movie studio capabilities Disney could, in theory, take Maker's established YouTube creators and bring them into traditional media outlets. It's not a leap of faith to assume the next Miley Cyrus/Hannah Montana could stem from such a deal. As I highlighted in a piece last month YouTube stars have already proven they can usurp the likes of major celebrities, including Beyonce.
A LESS FORGIVING WORLD
With the acquisition of LucasFilm, Bob Iger has shown he's willing to invest billions to expand Disney's control of media and pop-culture. Disney's acquisition of Maker Studios will help expand Disney's influence, but is an investment that's markedly different than that of LucasFilm. At the time of acquisition LucasFilm was a firmly established business with decades of proven profitability from merchandising, films, games, and production.
Maker is primarily a media business, and one that is rumored to be largely unprofitable. While LucasFilm has IP and characters, which can be rebooted, repackaged, and resold (as we're seeing with the announcement of a new Star Wars film), Maker relies upon the success of individual content creators, When talent leaves the network, as is apt to happen, their audience leaves with them. Assuming Disney's sales force can come in and sell Maker's ad inventory, effectively keeping talent happy and within the network, the deal could be a success. But I'd argue this is Disney effectively propping up Maker not Disney stepping in and buying an amazing existing business.
As Iger himself stated, "It's a less forgiving world than it's ever been. Things have to be really great to do well." Assuming the deal goes through, time will tell if this is "Fox/MySpace, part 2" as one commenter on Kafka's original post called it, or if Maker Studios (or any MCN for that matter) has what it takes to join the ranks of Pixar, Marvel, and LucasFilm—developing its thousands of YouTube partners into the next generation of beloved (and profitable) characters for generations to come.
Brendan Gahan (@brendangahan) is a YouTube expert helping Fortune 500 brands with their YouTube influencer and community building campaigns. He was named Forbes 30 Under 30 in Marketing & Advertising and one of the 25 Top YouTube Business Power Players for 2013.