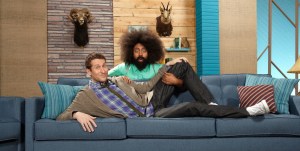 There is a magical time every year called the upfronts. No one can say exactly what part of the year it is, though … traditionally it's in May, but some edgier networks move it earlier, so let's just say "spring-ish."
During the spring-ish upfronts season in New York, journalists are invited to parties and brunches by the television networks, which hope to woo favorable coverage. This year, due to a number of factors–increased coverage of television, more networks holding upfronts and New York not currently having a commissioner for the Mayor's Office of Movies and Entertainment after Katherine Oliver's departure–the activities are taking on a special sort of no-holds-barred/Hunger Games-kind of vibe.

To wit: IFC already released its new schedule, ahead of their upfronts, which are happening tonight. The event, held at Roseland Ballroom, is guaranteed to be a fun night of carousing. So in case we're all too drunk to remember who is getting a new show, the network, which just hired Pete Aronson as the head of original programming, thankfully sent along a list of its offerings. Fred Armisen! Bill Hader! Comedy Bang! Bang! CollegeHumor's umpteenth attempt at a TV show!
See you on the other side, suckers.
NEW AND RETURNING PROGRAMMING

American Documentary (working title) (premieres in 2015)
American Documentary is a curated series of half-hour documentaries and biopics, each about a completely fictitious subject. Featuring a repertory-like ensemble cast, the episodes will explore important political figures, influential artists, titans of industry, and iconic cultural movements, all utterly fictional. Produced by Lorne Michaels' Broadway Video Television and directed by SNL's Rhys Thomas, American Documentary will be shot on location in the traditional documentary style.
IFC has ordered six half-hour episodes to premiere in 2015. Meyers will executive produce the series along with Armisen and Hader, who will have recurring roles. Production is scheduled to begin later this year.
American Storage (working title) (premieres in 2015)
When a straight-laced employee at a storage facility befriends a man he discovers living in one of the units, a friendship blossoms and mayhem ensues. Rob Huebel stars as Kurt Jones, a thrill-seeking bachelor who takes up residence in a Los Angeles storage facility and shows Charlie (John Karna) there's more to life than a steady job, a hot girlfriend and suitable housing. American Storage is based on the short film of the same name co-written by Andrew Jay Cohen (Neighbors) and Brendan O'Brien (Neighbors) and directed by Cohen. The series is produced by Troy Miller and Dakota Pictures (Arrested Development, Flight of the Conchords).
CollegeHumor Comedy Music Awards (premieres in 2015)
When comedy and music collide, the results are explosive. IFC and CollegeHumor are coming together to honor the best of the comedy music genre with the first-ever Comedy Music Awards. A parody of traditional awards shows, this on-air and online concert will feature top musical comedy talent and performances set against the backdrop of a fake, overly self-important awards show. Complementary pieces include a new comedy music website, original comedy music videos and interactive digital features that will engage the audience.
Comedy Bang! Bang! Season 4 (premieres in 2015)
IFC has also ordered an expanded fourth season of Comedy Bang! Bang! hosted by Scott Aukerman, with 40 all-new half-hour episodes. This is the second time IFC has doubled its episode order for the series, which aired 10 episodes in season one and grew to 20 episodes in seasons two and three. The show continues to be a favorite among IFC's viewers and advertising partners with brands such as Volkswagen and Cheez-It appearing through customized storyline integrations. Infusing untraditional celebrity interviews and comedy sketches with a tinge of the surreal,Scott engages his guests with unfiltered, deadpan lines of questioning, accented by banter and beats provided by Reggie Watts. Each celebrity appearance is blended with mind-bending filmed shorts, random character cameos and over-the-top spoofs. Produced for IFC by Abso Lutely Productions; Scott Aukerman, Dave Kneebone, Ben Berman and Neil Campbell serve as executive producers.
The Birthday Boys Season 2 (premieres in late 2014)
The series features both stand-alone and multi-act sketches poking fun at real-life moments and cultural touchstones and takes a hilariously skewed perspective on everyone's shared experiences. Along with honorary eighth member Bob Odenkirk, The Birthday Boys ensemble includes Jefferson Dutton, Dave Ferguson, Mike Hanford, Tim Kalpakis, Matt Kowalick, Mike Mitchell and Chris VanArtsdalen whose collective credits include Conan, Parks and Recreation, The Office, Portlandia, Funny or Die, Comedy Bang! Bang! and more. Produced for IFC by Red Hour and Abso Lutely, and executive produced by Bob Odenkirk, Ben Stiller, Debbie Liebling, Stuart Cornfeld, Mike Rosenstein and Dave Kneebone. The series is written by The Birthday Boys and Bob Odenkirk and directed by Chris VanArtsdalen and Jefferson Dutton.
IN DEVELOPMENT
Westside
Created and written by Jordan Okun and executive produced by Joel McHale (Community, The Soup), Jason Burns and Free Period, this half-hour scripted comedy follows a group of suburban schnooks who are forced into a life of crime.
The Bank
A half-hour scripted comedy, executive produced by Teri Weinberg (The Office, Ugly Betty) and Brigitte Bako (G-Spot), about a dysfunctional family who runs a sperm bank. Bako is also writing the project.