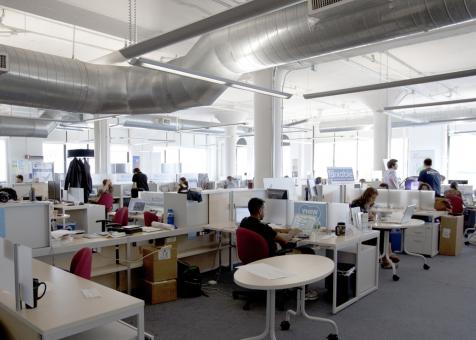 Urban Future Lab, wants to do more than design better dating and delivery apps – it's on a mission to revolutionize New York City's energy infrastructure. The new tech startup incubator, which is a project from NYU Polytechnic School of Engineering and NYCEDC, opened its doors this morning in the heart of the Brooklyn Tech Triangle.
Startup incubators help young companies find funding and customers as they start their journey to profitability. Urban Future Lab is signing six-month agreements with 15 startups, with the goal of getting them healthy and out the door in a year and a half. The startups have already moved in, and will get use of the space, as well as help paying for legal support, accounting and interns.
The list includes startups like Enertiv and Regen, which develop systems that monitor energy use in order to find waste, and Radiator Labs, which makes a radiator cozy that connects to your wifi and conserves heat energy.
"The question of infrastructure resilience underlines everything," Micah Kotch told Betabeat this morning. Mr. Kotch is the Director of Innovation and Entrepreneurship for NYU Polytechnic, and has been working to build startup incubators in New York since 2009.
"There are some really compelling things happening where connected devices are meeting high performance real estate and urban infrastructure. There are big possibilities for data analytics," Mr. Kotch said.
Brooklyn is already home to major tech companies like Etsy, Makerbot and HowAboutWe, and for business leaders in New York, building "tech campus" style developments are essential to growing the city's economy.
"New York City has the largest commercial real estate market in the world" Mr. Kotch said, "When you make the connection between energy, buildings, and city infrastructure, this is a massive market opportunity that has yet to be disrupted by the web."