Are you worried your crippling Candy Crush addiction is slowly melting your brain into a geometrically-shaped puddle of multi-colored goo? Thankfully, there's a new app on the market for those looking to do something more productive with their commutes.
Vocabulary.com, which has operated as a website for the past few years, launched as a mobile app on March 18. Using fun games, lists and easy-to-understand dictionary definitions, the service helps users improve their vocabulary skills, and makes us really wish we had it during our endless hours of high school SAT prep. 
"There's something in our brains, clearly, that enjoys the rush of very addictive games," Vocabulary.com executive producer Ben Zimmer told Betabeat. "So if that's the way our brains work, why not take advantage of that — not just play some mindless game, but do something that'll actually improve you? You don't have to feel bad about playing [this] for a long time, because you're improving your vocab."
The Vocabulary.com app offers a number of different ways to improve your vocabulary beyond "like," "um," and "selfie." We first tested out the "Play" option, which churns out vocab questions in the form of a game. Here's an example of what a typical question might look like: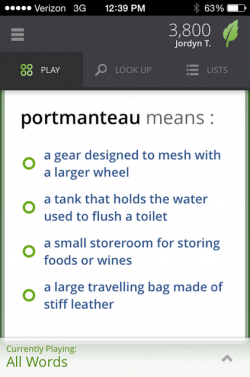 "The way that we've designed it is to be adaptive, so instead of being given random questions, we're determining what your level is," Mr. Zimmer said. "We can always choose the right question for you that'll be sufficiently challenging. It doesn't matter what your level is, age or proficiency — we can zero in on the questions that are right for you and words that are good for you to learn for your level."
The app also has a "Lists" feature, where users can find an endless variety of relevant vocab lists. Seriously — we were able to find everything from "100 SAT Words Beginning with 'A'" to a list of words found in Harry Potter and the Deathly Hallows. (Diadem: an ornamental jeweled headdress signifying sovereignty.)
Finally, if you don't feel like playing the game or scrolling through a specific list, you can use the app's "Look Up" feature, which functions like a regular dictionary. Mr. Zimmer tipped us off on a fun twist — every time you shake your phone, the dictionary spits out a random word and its definition.
Our favorite thing about Vocabulary.com is that their explanations of words' meanings are designed to be understood by actual humans. Take their explanation of "hirsute," for example: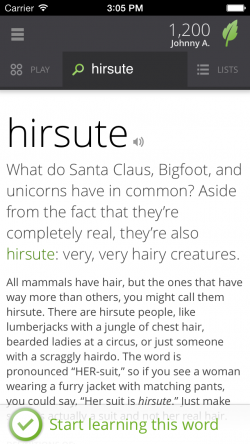 "We have writers we've identified who are very good at breaking down a word's meaning and its history, and avoiding being too dry," Mr. Zimmer said. "Very often, [our writers] have a background in teaching English are very good at that sort of writing – explaining it in a good, straightforward kind of way."
The Vocabulary.com app is currently available in the App Store for $2.99. Mr. Zimmer said an Android version is coming soon. The app's not free, but replacing the hour you normally spend playing DoodleJump with something educational is pretty much priceless, wouldn't you say?