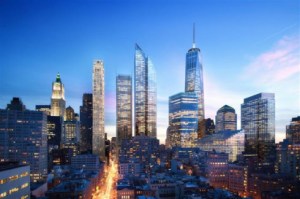 Gleaming new skyscrapers. Swarms of young pedestrians. Cutting edge tech and creative office tenants. High-end retail. Sprouting condo towers. A new transportation hub.
This isn't a city of the future—it's the "New Downtown," as Francis Greenburger of Time Equities described it to Commercial Observer last week.
The submarket's comeback is undoubtedly remarkable and a boon for the real estate industry. But the prosperity has also sparked more than a dozen residential development projects, at least a handful of which are high-end, luxury buildings, which will make Downtown Manhattan a destination for the city and world's most well-to-do, broadening a wealth gap that the city's top dog wants so badly to mend.  Read more at Commercial Observer.