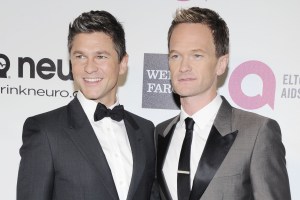 At the Armory Fair on opening day, we happened to bump into who but Neil Patrick Harris, strolling the booths with his partner David Burtka.
Mind if I ask your opinion of the fair?
NPH: I think it's really good turnout. I'm often overwhelmed by too much at one time, but I guess everyone's doing their job. Our friend Robert showed us around. We've bought a couple cool things.
Can I ask what?
NPH: David knows all of their names. I'm one of those—'I like it, do it.'
Do have a big collection?
NPH: Yeah we do contemporary, medium-size sort of up and comers, I guess. Although we have some good stuff now. We have an [Ahmed] Alsoudani… Uhhh, what else have we acquired? What's her name, David? [Beckons him, remembers] Annie Lapin. She's amazing
DB: We just got a piece from one of her new series. We have one of the first pieces she ever sold! And, I guess, one of her last pieces she's ever sold, so far.
NPH: We hope that she offs herself soon, so it'll be worth a lot of money. She's very pretty, successful blonde! So I'm sure the end is soon. Who was that one we got last night?
DB: Peter Jacobs?
NPH: Oh that one's cool. With those peepholes?
DB: David Wojnarowicz. We got one of his pieces just now!
What would you say you look for in a piece? What does something have to have for you to buy it?
NPH: I'm a stickler for a lot of detail, or being able to appreciate something from afar and then being able to right up close and see it in a different way.
DB: Some magic elements. It's not what it necessarily seems to be. You have to look and then look closer and then look closer again and then even closer at that. If you look at our collection, it's a lot like that.
NPH: Like Francesca Gabbiani. We have a piece of hers—
DB: Two pieces. Three pieces.
NPH: You're right! She's amazing. They're amazing pieces because you get close and then you're like, 'Wait a minute that's made of construction paper?' And then you get closer and you're like, 'Wait a minute there are faces in that construction paper?' Dan Zeller, we have a couple of his pieces.
DB: Tom LaDuke. He hasn't hit it yet, but he we will.
NPH: Now we're just being boring name droppers.
No it's great! How long have you been collecting?
NPH: Oh seven or eight years. The first thing we bought was a Robert Longo at Margo Leavin gallery.
DB: Not one of the big ones, a study.
NPH: But that was kind of the same thing, because from afar it looks like a photograph but then you get really close and there's depth off the chart. I don't understand how you even start making something like that.
What made you want to get into collecting 8 years ago?
DB: When I moved to L.A. to work—I'm a theater guy and worked sorta stopped, so I got a job as a caterer. Working for a catering company and the man who owned the company was an art collector himself. And he did the whole art world so I would go to these mansions with all these collections worth millions upon millions of dollars and I got to see everyone's collection in L.A. So I got to see what people were buying, what I responded to, and then when I met Neil, I was not in a position to buy art at all—
NPH: And I'd just got a TV show! So, a dangerous combination.
DB: Right. Let's put my eye and your money to good use!
NPH: And that caterer he speaks of is Tom Peters, who has one of the best collections in L.A., one of the biggest. So thankfully we were able to go with Tom to galleries because it's kind of an intimidating progress to go thorugh it initially, by yourself.
Tom would tell us whether something was a good value or would give us a heads up about some unknown, really young, up and coming artist we should buy. One of those—its only fifteen hundred bucks and you should get it now. He's done that, he bought like Tom Friedman for two grand, and now he's like three hundred thousand dollars. He's that guy.
Has that happened with your collection yet?
NPH: Oh, yeah. Well a little bit. We won't brag.
DB: We buy young. We buy really, really young, we buy people right out of school like Annie. We bought one of Annie's first pieces and now she's doubled in value.
NPH: More than that.
DB: But that's not why we buy!