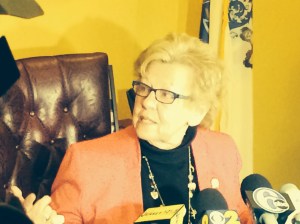 TRENTON – Although a report commissioned by the governor's office on the George Washington Bridge lane closure controversy concluded Gov. Chris Christie "knew nothing about" the September 2013 incident before its execution, state Senate Majority Leader Loretta Weinberg (D-Bergen) was unsatisfied with the results.
"The big question of motive has not been answered. As a matter of fact, more questions have been raised, because [the report] makes a statement that this had nothing to do with political retribution. Then what did it have to do with?" Weinberg said. "If you can make that statement then where is the other half of that sentence? How can you make that statement unless you know what the motive was, or what it really was?"
The Gibson, Dunn & Crutcher LLP report, which was requested by Christie's office and reportedly cost taxpayers at least $1 million in legal fees, was released on Thursday. It indicates that former top Christie staffer Bridget Kelly and former Port Authority executive David Wildstein, who was the editor-in-chief of PolitickerNJ.com under the name "Wally Edge" until 2010, were the main force behind the lane closure incident, which has come to be known as the "Bridgegate" scandal.
Weinberg focused her ire regarding the report on attorney Randy Mastro, of Gibson, Dunn & Crutcher, who issued his law firm's findings about Gov. Christie's involvement in the lane closure controversy at a New York City press conference on Thursday.
"That attorney has some very strong legal connections to the governor," Weinberg said. "There are questions that could be raised. This report parses words in a very inappropriate manor. The governor got what he paid for."
Regarding her ongoing role as co-chair of the state Legislative Select Committee on Investigation, which is investigating the bridge lane closure incident, Weinberg she would "wait and see" if the committee would get any more information that was provided in the governor's internal report.
"The public will believe whatever we come out with, or choose not to believe it. This is all about public documents in the public purview, and should've been turned over to the public months ago. And then we wouldn't be having this discussion, because we would've known a lot of the answers. I'd like to see Mr. Mastro come before our committee, give his report, and then let us ask him some questions about it. I am not going to say how or what I believe until I see everything.
"If the governor needed a very expensive lawyer to come and tell him that we need transparency, I would have told him that for free," Weinberg added. "I've been telling him that for the last four years, and I haven't charged him for it."